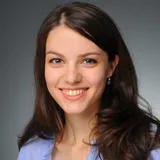 Dr Alexandra Livia Georgescu
Lecturer in Psychology
Contact details
Biography
Dr Alexandra Georgescu is Lecturer in the Department of Psychology at the Institute of Psychiatry, Psychology and Neuroscience at King's College London, which she has joined in August 2018.  
Previously she was a Marie Skłodowska-Curie postdoctoral fellow at the Institute of Cognitive Neuroscience at University College London. Before that she worked at the Neuroimaging Lab of the Psychiatry Department of the University Hospital of Cologne. She completed her degree in Psychology and her PhD in Social Neuroscience at the University of Cologne. 
Her research interests lie in the investigation of the perception and production of nonverbal behaviour in social interaction. In particular, she is trying to uncover the underlying neural mechanisms that allow us to successfully interact using body language in both typical development and autism spectrum disorders. She uses a variety of behavioural and neuroimaging tools to study social cognitive processing of nonverbal cues, like virtual reality, eye-and motion tracking and neuroimaging methods like fMRI and fNIRS. 
Alexandra has previously tought at the University of Cologen and at University College London on modules on Social Neuroscience, Neurodevelopemntal Disorders and Neuroscientific Methods. 
Research Interests:
Social interaction and nonverbal communication 
Social neuroscience 
Autism spectrum conditions 
Teaching:
Introduction to Psychology (module leader) 
Skills: Motion Tracking 
Inspirational Research 
Expertise and Public Engagement 
Reviewer for various peer reviewed Journals including:
NeuroImage, Autism, Culture ad Brain
Neuroscience and Biobehavioural Reviews
Research in Autism Spectrum Disorders