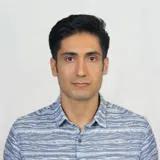 Dr Alireza Sarmadian
Research Associate
Contact details
Biography
Alireza joined King's College London as a Postdoctoral Research Associate in Engineering after completing his PhD in Engineering in September 2021 as part of an EPSRC-funded Prosperity Partnership with Jaguar Land Rover (JLR) on vehicle electrification.
Alireza is a Chartered Mechanical Engineer (CEng MIMechE). Originally from Iran, a country where drought and extreme weather have become increasingly common due to climate change, he has observed the impact of climate change in real time, and so is interested in developing environmentally friendly technologies.
Before joining King's, he was a Research Fellow and Chancellor's Award-winning PhD student at the University of Sussex. Whilst there Alireza worked on an EPSRC-funded project in collaboration with Ford, Ricardo, and Denso, which explored the use of an evaporative spray cooling system for cooling automotive electrical and electronic powertrain components. He subsequently completed a 3-month Research Fellowship in working on a novel resonating free-piston generator concept. The post focused on control engineering development to manage key mechanical and electrical machine functions of the generator. This involved control system design, simulation, and rapid prototyping; build, test, and hardware demonstration.
Alireza's PhD studies were funded by the University of Sussex Chancellor's International Research Scholarship, and his thesis focused on heat transfer and control engineering. He has had a number of journal papers published as well as conference papers, two of which achieved the Best Paper award at two international conferences: 15th International Conference on Heat Transfer, Fluid Mechanics and Thermodynamics (HEFAT), and the FFHMT'21 Conference.
Alireza is an Associate Fellow of the Higher Education Academy (AFHEA).
Research interests
Thermal management and control of cooling systems
Heat transfer augmentation
Batteries
Vehicle electrification
Electronic cooling
Refrigeration
Lab-on-a-chip devices
Cryogenic engineering
Design and manufacturing
Further information