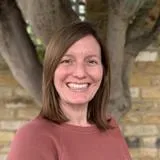 Angela Hakim
PhD candidate
Contact details
Biography
Angela Hakim is a PhD candidate at King's College London in the School of Education, Communication and Society. She holds a BA in Politics and Russian Language, an MEd in TESOL and and MA in Applied Linguistics and English Language Teaching.
Before joining King's, she taught English for academic purposes and English as a second language in the U.K., U.S.A, Lebanon, Mexico and Russia. Angela's research interests include English for academic purposes, the teaching of writing in higher education, discipline-specific approaches to academic literacy instruction, and collaboration among EAP and discipline specialists in universities.
Her thesis title is: Implementing academic literacy instruction institution wide: An intervention study.
Principal supervisor: Dr Ursula Wingate
Secondary supervisor: Dr Chris Tang