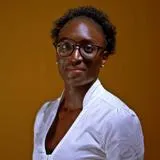 Dr Brenda Hayanga
Research Fellow
Contact details
Biography
Dr Brenda Hayanga is a Research fellow based in the Department of Global Health & Social Medicine. She is primarily interested in the health and wellbeing of people from minoritised ethnic groups and how individual-level processes intersect with social, historical and structural processes to cause ethnic inequities in health.
Research
Her current research is concerned with ethnic inequalities in healthcare use and care quality among people with multiple health conditions. Other areas of interest include the evaluation of health interventions, the use of an intersectional life-course approach to understanding the diversity of minoritised ethnic group people and the relationship between research, social policy and practice.
Methodologically, Brenda has training and experience in conducting quantitative, qualitative, mixed methods research, and systematic reviews. She has expertise in using intersectionality-informed approaches which ensure a holistic understanding of social phenomena.
Her ESCR funded PhD research sought to assess whether social isolation and loneliness interventions were effective and suitable for older people from minoritised ethnic groups living in the UK. The research adopted a mixed-methods design conducted in four iterative phases and was informed by an intersectionality framework.
The use of novel approaches have led to findings that have empirical, methodological, and theoretical relevance to the social gerontology and race/ethnicity studies