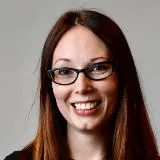 Chloë Reeves
Research Associate
Contact details
Pronouns
she / her
Biography
Chloë joined the NIHR Health and Social Care Workforce Research Unit in June 2023. She is an NIHR School of Social Care Research Fellow funded through a Career Development Award. She is working with the Association of Directors of Adult Social Services (ADASS), Think Local Act Personal (TLAP), and the National Co-production Advisory Group to develop a PhD proposal that looks at understanding and assuring the pipeline of Directors of Adult Social Services (DASSs).
Chloë chose and has stuck with a career in social care because of her experiences as a carer. The stories aren't all hers to tell, but they make her better at her job. Chloë has worked in adult social care for almost twenty years. She's held various practice, policy, research and campaigning roles in local government and the charity sector, including at the British Red Cross. As a Churchill Fellow, she spent time in the Netherlands and Sweden, exploring the role of the third sector in their 'Buurtzorg' model of person-centred care.
Chloë's publications include The State of Health and Care of Older People in England 2023 for Age UK, Ageing in coastal and rural communities: Exploring the factors underlying health inequalities for older men, older people from ethnic minorities, and older LGBTQ+ people for Public Health England with Age UK, and What We Need Now: What matters to people for health and care, during COVID-19 and beyond for National Voices, which was recognised at the Patient Experience Network Awards in the Engaging and Championing the Public category.
Chloë Reeves: ORCID iD | Research Profile at King's