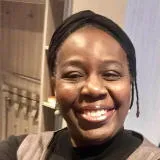 Dolapo Ogunleye
PPIE Advisory Group member
Biography
Dolapo is a member of the Patient and Public Involvement and Engagement Advisory Group of the Policy Research Unit in Health and Social Care Workforce (HSCWRU) at King's.
"A research adviser currently advising researchers Biomedical Research Centre at the Royal Marsden and Cancer Research UK in their projects. I also lend my voice as an independent trainer, facilitator, and mentor to patients and their families affected by cancer. I go abroad to Nigeria with regular updates where I am also encouraging research into better treatments. This was an article I wrote on International Women's Day 2017. 
As a patient I'm delighted to see the value of patient and public participation in research. Patients and members of the public are increasingly being seen less as just participants and more as partners in research and this can only be a good thing for everyone. I was motivated to be involved in shaping research because as a cancer survivor I have benefited from someone else's research. One of the exciting aspects of getting people affected by any disease is ensuring that a patient's voice is needed to demonstrate that Patient and People Involvement / Engagement has a meaningful impact and that whenever possible this is reflected in measurable change. I am enjoying my sessions at the gym where I promote fighting cancer with fitness. I also read a lot and am currently reading a classic by Alexander Solzhenitsyn - a book called Cancer Ward, recommended by a lady I met in the gym."