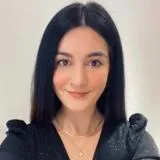 Eleanor Walkington-Ellis
Programme Manager
Pronouns
she/her
Biography
Eleanor is a Programme Manager in the Department of Chemistry. As part of the Education team, Eleanor ensures consistent management and delivery of taught programmes by providing high quality and effective administrative support, in accordance with university and Faculty priorities, timelines and policies.
Prior to this, she held both Senior Project & Senior Programme Manager roles at NHS Improvement and King's College London.
Eleanor is PRINCE2 Qualified and has a Master's Degree in International Management.
Responsibilities:
Managing the Education Team
Ensuring the departments Undergraduate & Postgraduate Programmes are planned and delivered to expected standards, budgets, and internal and external deadlines
Monitoring and reviewing education delivery on a continual basis to ensure compliance with agreed timeframes, expectations, key performance indicators and service level agreements
Working with Deputy Head of Education to ensure that quality assurance requirements and, where required, accreditation requirements are met for all courses
Represent the Faculty's interests in university wide service improvement projects, engaging with relevant stakeholders, groups, and committees across the university to influence change