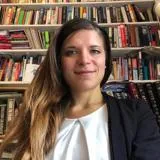 Eleonora (Ellie) Iob
Wellcome Research Fellow in Epidemiology & Statistic
Contact details
Biography
Eleonora (Ellie) Iob is a Wellcome Research Fellow in Epidemiology & Statistics at King's College London (KCL) and Lecturer/Honorary Research Fellow at University College London (UCL). Prior to joining KCL in 2021, Eleonora completed a BSc (Hons) in Psychology and an MSc in Social Statistics at the University of Manchester and a PhD in Epidemiology & Psychobiology at UCL, funded by the Soc-B Centre for Doctoral Training in Biosocial Research (ESRC-BBSRC). Alongside her PhD, Eleonora worked as an Associate Lecturer in Quantitative Research Methods, and she undertook postdoctoral work at UCL.
Eleonora's research seeks to elucidate the complex interplay between psychosocial, behavioural, and biological factors in the development of common mental health problems across the life course. She is also interested in the application of innovative data science methods and statistical modelling techniques to advance mental health research. Eleonora is currently working on a Sir Henry Wellcome Fellowship (2021-2025) under the mentorship of Prof Andrea Danese. Her fellowship's project aims to apply a variety of causal inference methods (e.g. Mendelian Randomisation, G-methods, twin designs) to test the role of physical activity in promoting resilience against stress-related psychopathology and biological responses in young people, using data from various longitudinal cohort studies (e.g. ALSPAC, Generation R, Millennium Cohort Study, E-Risk).
Her PhD at UCL was supervised by Prof Andrew Steptoe and investigated the neuroendocrine, inflammatory, and gene-environment mechanisms underlying the relationship between childhood adversity and depression in young people and older adults, using data from ELSA, ALSPAC, and TEDS. At UCL, Eleonora is also researching the psychosocial impact of the COVID-19 pandemic on the mental health, wellbeing, and health behaviours of the population, and she analyses data from the ELSA COVID-19 study.
Research interests:
Psychiatric epidemiology
Statistics
Data science
Causal inference
Machine learning
Depression and anxiety
Physical activity
Psychoneuroendocrinology
Psychoneuroimmunology 
Child stress
Genetics
Expertise and Public Engagement:
Eleonora is a Fellow of the Royal Statistical Society and the Higher Education Academy. She has received awards and funding for her research from the Wellcome Trust, the Economic and Social Research Council (ESRC), the American Psychosomatic Society, and the Society for Social Medicine. Eleonora is also actively engaged in communicating research findings through the media. She has contributed to articles and blogs for newspapers and magazines to convey findings from her research to the public.  
Teaching:
Eleonora has expertise in various statistical methods for the analysis of longitudinal biosocial data and several years of experience in teaching Statistics and Quantitative Research Methods. At KCL, she coordinates and teaches research methods courses, and she supervises research projects for the Developmental Psychology & Psychopathology MSc. As part of her role as a Lecturer at the UCL Institute of Epidemiology and Health Care, Eleonora also contributes to the development and delivery of training courses on Statistics and Longitudinal Data Analysis aimed at MSc and PhD students and quantitative researchers (R and Stata). Furthermore, she is involved in the supervision of research projects for the Health Psychology MSc and rotation projects for the Soc-B PhD programme. 
Research Groups:
Stress & Development Lab, Social, Genetic and Developmental Psychiatry (SGDP) Centre, KCL
Psychobiology research group, Research Department of Behavioural Science and Health, UCL