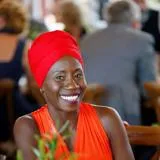 Mrs Enitan Ledger
King's Global Health Institute Manager
Contact details
Biography
Having joined the Health Service & Population Research department at the IoPPN in 2008, I have worked with Professor Martin Prince up to now in the for Global Health Research Group, and now for the newly formed King's Global Institute. 
My role had been to support and assist staff with many aspects of their work, and oversee and manage grant applications.  In my current role, I am responsible for the implementation of the communications strategy, planning and organising events - highlighting to external audiences  the global health work that is carried out across King's  Promoting engagement with KGHI and the wider KGHI Faculty by co-ordinating the academic program and increased interaction cross-faculty, for staff and students; monitoring and evaluating the communications strategy, promoting the KGHI brand, ensuring effective dissemination off all research, education and capacity building activities. 
Other responsibilities include dealing with the recruitment of staff, travel arrangements, purchases, and assisting the Director and Deputies in developing and implementing strategies for research and education.