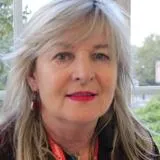 Dr Gemma Trainor
Lecturer
Biography
Prior to taking up her post as a lecturer with King's College London, Dr Gemma Trainor worked as a Nurse Consultant and clinical lead for a Tier 4 CAMHS day service in Manchester. She specialised in working with young people who self-harm and has over 30 years of direct clinical experience working with young people with complex mental health difficulties.
She is also a panel member of several national expert groups (eg NICE, IAPT Tier 4 CAMHS, CRG, RC Psychologists Steering Group on self-harm) and a specialist advisor to CQC.
Research interests:
Gemma has also worked 20 years as an active researcher. In 2001 she completed her PhD thesis, evaluating a group treatment for self-harm, which she co-designed. She has been a lead clinician of this promising treatment in three large randomised multi-centre trials (Australia and UK) investigating its outcomes, transferability and cost-effectiveness. This work is referenced in the 2004 NICE guidelines on self-harm. Additionally, she has provided regular supervision to MSc and PhD students.
Her research and other work have been published in peer reviewed journals and books, and has been presented at several national and international conferences. She is the co-author of a well-received book "Helping Children and Young People who Self Harm - An introduction to self-harming and suicidal behaviours for health professionals".