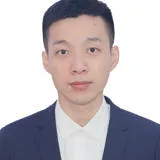 Dr Guanglu Jia
Research Associate in Mechanical Engineering
Pronouns
He/Him
Biography
Guanglu Jia is currently a Research Associate of Mechanical Engineering in the Department of Engineering, King's College London, where his line managers are Prof. Dai and Dr. Spyrakos Papastavridis.
He received a BSc degree in Mechatronics from Changsha University of Science and Technology, Changsha, China in 2013, a MSc degree and a PhD degree in mechanical engineering from Harbin Institute of Technology, Shenzhen, China, in 2016 and 2021, respectively.
Dr. Jia's research interests include reconfigurable mechanisms, type synthesis methods, origami-inspired mechanisms, oriblocks, screw theory and Lie algebra. He reviewed more than 30 journal papers and was elected as the top reviewer of Mechanism and Machine Theory in 2021. He was invited to be a speaker in JMD's 4th Webinar on Robot Design.
Research interests
Reconfigurable robots
Metamorphic mechanisms
Oriblocks
Screw theory
Design and synthesis methods
Further information