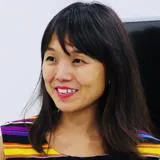 Dr Kai Syng Tan PhD
Artist in Residence
Contact details
Biography
Dr Kai Syng Tan FRSA SFHEA joined King's College London as Artist in Residence and Visiting Fellow in September 2017, and is Senior Lecturer at Manchester School of Art (from 09/2019), leading a new MA in Executive Arts Leadership and assisting with a new MSc of Creative and Cultural Industry Leadership programme. An artist, consultant, curator and academic, Kai is concerned with the body and mind in motion in a world in motion and commotion. She is best known for gathering diverse and divergent bodies and bodies of knowledge to engineer spaces of 'productive antagonisms' (Latham & Tan 2016) across disciplinary, geopolitical and cultural boundaries, in what she calls an 'ill-disciplined' approach (Tan & Asherson 2018).  
Marked by an 'eclectic style and cheeky attitude' (Sydney Morning Herald 2006), 'radical interdisciplinarity' (Alan Latham 2016) and 'positive atmosphere' (Guardian 2014), Kai's performance-lectures, installation, film, critical and creative text have been featured at Biennale of Sydney, Documenta (European Artistic Research Network conference) and Tokyo Designers' Week. Venues include Science Museum, Southbank Centre, MOMA (New York), Royal Geographical Society and Moscow's Dom Muzyiki. Media engagement include BBC Radio3 and Fuji TV. Recognition includes National Coordinating Centre for Public Engagement Images Award (Culture Change) and San Francisco International Film Festival Golden Gate Award. Collections include Museum of London and Fukuoka Art Museum. She has taught in more than 40 higher education institutions (BA-PhD) as lecturer, programme leader and examiner, including Royal College of Art, LASALLE College of Art (Singapore), Australian National University, Tama Art University (Tokyo) and Dumaguete University (Philippines).   
Kai is described as 'absolutely instrumental' (Gregg Whelan 2015) in opening up what could be called 'Running Studies', which explores running as an arts and humanities discourse. This draws on her PhD research which was conducted at Slade School of Fine Art. Her Arts Council England funded Unlimited commission at King's College London, #MagicCarpet, explores mind wandering, difference and neuro-diversity and has been enjoyed by more than 9500 people and said to 'create a family for people with ADHD' (review, The Psychologist). Co-created with disabled colleagues, the £4m Opening and Closing Ceremonies of 8th ASEAN Para Games (with Kai as Visual and Communications Director) was applauded as 'spectacular' by Singapore Prime Minister and game-changing and 'most inclusive' by the Singapore Association of the Deaf. With Jen Southern and others, she helped to curate the inaugural Arts and Mobilities Network Symposium in Summer 2018 at the Peter Scott Gallery.   
Kai is UK Research and Innovation and Arts and Humanities Research Council Peer Review College Member, Music In Detention trustee, Founder and Lead of RUN! RUN! RUN!, Co-Founder and Manager of the 70-member Running Cultures Research Group, Research Committee Member of UK Adult ADHD Network (network for mental health professionals),  Advisor to PsychART (linking psychiatry, creativity and the arts, funded by Royal College of Psychiatry), and Visual and Communications Consultant for Philbeat (Singapore creative company). 
At King's, Kai is mentored by Professor Philip Asherson. Apart from #MagicCarpet, interdisciplinary projects and conversations she has initiated includes the Art+Science Creative Collisions with PhD student Isabella Vainieri, which nurtures interdisciplinary collaborations and dialogue between the arts and sciences, and encouraging (creative) practice and innovative public engagement approaches within research, through work with PhD students to co-lead workshops, seminars, field trips. Kai's other work within King's include: Tutor to MSc students, SGDP. Diversity and Inclusion Mentor, KCL. Professional services staff Mentor, IoPPN. Mind and Body Champion, King's Health Partners. Neurodiversity Peer Support Group, IoPPN. Disability Inclusion Working Group Member, KCL   
Research interests:
Research-practice-teaching nexus: Innovative possibilities of 'practice-led research' and 'publication'. Practice: installation, performance, drawing, mapping, creative and curatorial practice. 
Widening access and participation: working with 'non-traditional' students. Internationalisation.   
Arts in health and mental health. Complicating dominant discourses on 'normality' and 'illness' via through an 'ill-disciplined' (Tan and Asherson 2018) approach by highlighting neuro-divergent, female perspectives.  
Interdisciplinary 'productive antagonisms' (Latham and Tan, 2016):  working with artists, academics and non-academics across disciplinary, artistic, cultural and geopolitical boundaries. 
Body and mind in motion as creative toolkit in a world in (com)motion to engage with self, community, technology, place (in particular the city) and poetic thinking. 
Running as arts and humanities discourse: running as methodology, metaphor and material. 'Running studies'. Art and mobilities.  
Research groups:
From 2019: Trustee. Music in Detention, UK charity improving lives of immigration detainees through the arts. 
From 2018: Peer Review College Member. UKRI Future Leader Fellowship scheme.    
From 2018: Co-Founder, Member. 40-member Art & Mobilities Network. Centre for Mobilities Studies, Lancaster Uni.   
From 2018: Research Committee Member. UK Adult ADHD Network (network for mental health professionals).  
From 2018: Advisor. PsychArt (supported by Royal College of Psychiatrists, on creativity, art and psychiatry).   
From 2018: Founder, Member. Brain, Art and Computer Interfaces group. With colleagues from School of Computer Science and Engineering, Nanyang Technological University. Founder, Co-leader of Art & Science Creative Collisions group, KCL 
2016: Senior Fellow. Higher Education Academy. UK.  
From 2015: Peer Review College Member. AHRC.  
From 2015: Member of Culture Health and Wellbeing Alliance and Arts Health: ECR Network.  
From 2016: Member. AN The Artists Information Company. Membership number: 40023105.  
From 2014: Fellow. Royal Society for the Arts UK. Membership number 8044270.   
From 2014: Director, Founder. RUN! RUN! RUN! Biennale, International Body for Research.   
From 2014: Co-Founder, Manager. 70-member international Running Cultures Research Group.  
From 2013: Visual Consultant, Communications Consultant. Philbeat, Singapore.
Practice-led research projects:
Teaching:
From 09/19: MA Education in Arts & Cultural Settings, School of Education, Communication & Society  
Awaiting funding for new PhD. Part of European Training Network EmINeNT! (Extremes in Neurodevelopment: Network for Training), Radboud University Medical Center, Netherlands. 
Expertise and public engagement:
Visit Kai's website for forthcoming public engagement events.
More than 36 keynotes and invited lectures since 2014, including for The Art & Mobilities Network Inaugural Symposium at Peter Scott Gallery, Lancaster (2018)
More than 700 exhibitions and public engagement activities since 1998 including a forthcoming solo 2-month show at the Manchester Craft and Design Centre, and a performance-lecture at the American Annual Geographers' Meeting in Chicago (2015).
More than 400 citations and interviews on radio, TV including a podcast of Birkbeck including 2 provocations: on the contested term 'neurodiversity', and on (the absence of) neurodivergent leaders (2019).