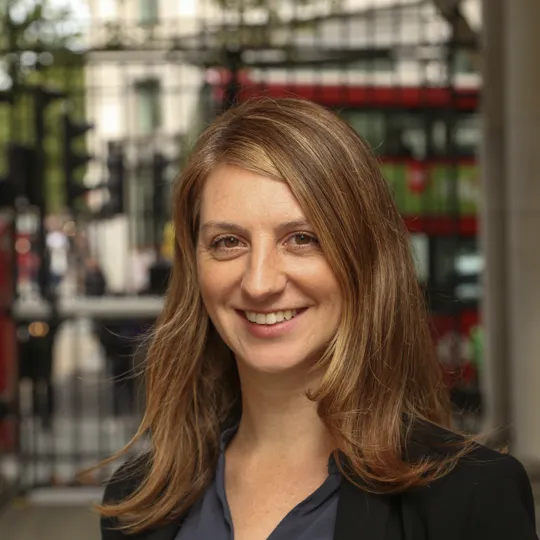 Dr Lucinda Newns
Lecturer in Postcolonial Literature and Culture
Contact details
Biography
I was born in London and raised in the United States. I completed my BA at New York University and then returned to the UK for postgraduate study. After completing an MA at the School of Oriental and African Studies, I stayed on to undertake a funded PhD at London Metropolitan University. I joined King's in 2022, after previous posts at Queen Mary University of London and the University of Manchester.
Research interests and PhD supervision
Migrant and diasporic literatures
Domesticity and the everyday
Ecocriticism & environmental humanities
Muslim women's writing
Genre
My monograph, Domestic Intersections in Contemporary Migration Fiction, explores representations of domesticity and everyday practices of homemaking in works by diasporic writers in Britain, including Buchi Emecheta, Monica Ali, Andrea Levy, Leila Aboulela, Abdulrazak Gurnah and Bernardine Evaristo. It draws together intersectional feminist theory, postcolonial theory, feminist geography and theories of the everyday to demonstrate how seemingly banal practices like cooking, cleaning, dressing, caring and decorating take on complex political valences in diasporic settings.
This work has spawned two new areas of research. The first, stemming from my prior engagement with Leila Aboulela & Monica Ali, is around Muslim women's writing and the uses of genre. I published an article on this topic in the Journal of Commonwealth Literature and am currently node leader of an AHRC International Network on "Muslim Women's Popular Fiction", along with colleagues in Birmingham (UK), Georgia (US), Pakistan and Turkey. 
My broader interest in migration, especially refugees, has drawn me to the issue of climate migration and the discourses that surround it in international policy circles and our media-fuelled cultural imagination. Such discourses have placed the "climate refugee" at the centre of debates about borders, securitization and "humanitarianism" in ways that often reinforce the racialisation and othering of already vulnerable populations while eliding histories of colonial and capitalist exploitation that created our current climate predicament. I'm therefore interested in how literature and art, particularly by postcolonial and indigenous practitioners, might imagine such movements otherwise. In addition, how might the critical tools of Diaspora Studies and the Environmental Humanities be brought together to reimagine mobility in and for the Anthropocene? These questions form the basis of my current book project, "Migrant Ecologies: World Literature and Human Dislocation in the Era of Climate Crisis."
Selected publications
"'The Sea Cannot be Fenced': 'Natural' and 'Unnatural' Borders in Gloria Anzaldúa's Borderlands/La Frontera and Amitav Ghosh's Gun Island." ISLE: Interdisciplinary Studies of Literature and the Environment (2021).
Domestic Intersections in Contemporary Migration Fiction: Homing the Metropole (Routledge, 2019)
"Re-Negotiating Romantic Genres: Textual Resistance and Muslim Chick Lit." Journal of Commonwealth Literature (2018)
New Directions in Diaspora Studies: Cultural and Literary Approaches. Co-edited with Sarah Ilott and Ana Cristina Mendes (Rowman and Littlefield, 2018)
"Homelessness and the Refugee: De-Valorizing Displacement in Abdulrazak Gurnah's By the Sea." Journal of Postcolonial Writing (2015)