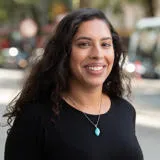 Ms Lucky Singh
Client Relationship Manager, Executive Education
Contact details
Biography
Lucky Singh is a Client Relationship Manager, Executive Education at King's Business School. She recruits and admits students on to our Executive Education Open Courses. Her role mainly involves building and maintaining relationships with prospective Executive Education participants, as well as creating and hosting events, communications, blogs and collateral that we need in order to attract the best participants and strengthen the King's Business School and King's College London brands.
Previously, Lucky worked at London Business School as the Student Recruitment for the Masters in Finance programme for two years. She was responsible for recruiting students on to the Full-time and Part-time Masters in Finance programme, and focused on building relationships with prospects across the world. Lucky travelled extensively to meet prospects and hosted events, webinars and seminars in different locations for a variety of audiences.
Before that, Lucky spent a short time working at Landor, a brand marketing agency as Client Manager. Her main client was Barclays Bank and managed a variety of projects including brand training, brand guidelines and interior branding. 
Lucky is passionate about education, am a strong advocate for women's rights, and enjoy mentoring people. Outside of work, you will find her travelling, reading or cooking up a feast.