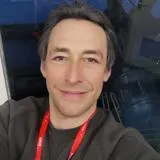 Dr Massimo Marenzana
Superintendent MRI Research Radiographer
Contact details
Biography
Dr Massimo Marenzana is a Superintendent MRI Research Radiographer in the Department of Perinatal Imaging & Health, which sits within School of Biomedical Engineering & Imaging Sciences at King's College London.
Dr Massimo Marenzana works in the South Wing of St Thomas' Hospital.
A list of his publications can be found here.