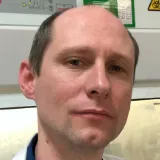 Dr Maxwell Handley
Senior Technical Officer
Contact details
Biography
Dr Max Handley is a Senior Technical Officer in the Department of Imaging, Chemistry & Biology, School of Biomedical Engineering & Imaging Sciences. A role for which his previous experience has prepared him well.
Max obtained a BSc in Biochemistry with Cell and Molecular Biology from the University of Kent in 2002. In his final year, he was awarded a Wellcome Trust bursary to work in the laboratory of Professor Philip Blower, who introduced him to the wonderful world of Molecular Imaging. Following on from his undergraduate studies, in 2006 he gained an MSc by Research in Biochemistry also from the University of Kent. In 2012 he received a PhD in Molecular Imaging from King's under the supervision of Dr Richard Southworth, where his research focused on assessing novel PET radiotracers for detecting hypoxic myocardium.
From 2012-20 Max worked in the School of Immunology & Microbial Sciences at King's, jointly in the laboratories of Professor Michael Malim and Professor Stuart Neil. In his new role, Max will provide support to researchers and be responsible for radiation and biological safety.