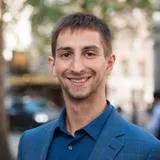 Mr Oleksii Romanko
PhD Student
Contact details
Biography
Supervisor: Dr Mary O'Mahony, Dr Flores Anderson
Year of Entry: 2018, full-time
Research Group: Economic Measurement
Project Title: Digital opportunity: how big data and cloud computing change the shape of the UK economy
An enthusiastic econometrician with a background in data science.
Oleksii is interested in how modern technologies, such as cloud computing, machine learning, blockchain are changing the shape of modern economy. He loves working with data and people to provide new insights and views on reality.  Oleksii has a solid background in both academic and professional areas: MA in intelligent data analysis in project management (Kyiv Polytechnic Institute), MA in Economic Analysis (Kyiv School of Economics), MA in Economics(University of Houston), and more than 3 years of experience in machine learning development and Python programming.
Oleksii loves to learn new things and inspire people by teaching and working with them. He worked as teaching assistant at the Kyiv School of Economics, running additional lessons on Econometrics. During my professional experience, he worked as a team leader in IT development projects, and inspired my start up team to work on our brand new social sharing engine.