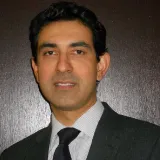 Professor Bijan Modarai
Professor of Vascular Surgery
Contact details
Biography
Professor Bijan Modarai is the King's Chair in Vascular Surgery and a British Heart Foundation (BHF) Senior Clinical Research Fellow. He completed his Basic Surgical Training in London before being awarded a BHF Clinical PhD Studentship in 2002. He graduated with a PhD in Biochemistry in 2006 and completed his Higher Surgical Training as an NIHR Academic Clinical Lecturer at King's and as an Endovascular Fellow at The Royal Prince Alfred Hospital in Sydney. He was appointed as a Senior Lecturer in Vascular Surgery at King's and Honorary Consultant Vascular Surgeon at GSTT in 2012, having secured a BHF Intermediate Clinical Research Fellowship. He was awarded a Hunterian Professorship by The Royal College of Surgeons of England in 2017.
He works with a multi-disciplinary group of health professionals to develop novel diagnostics and advanced therapeutics for vascular disease. Specific areas of interest include functional assessment of the ischemic limb (e.g. using MRI based oxygenation and perfusion imaging) and refining novel cell-based treatments for limb ischaemia in patients who would otherwise require amputation. Another main area of focus aims to improve management of aortic aneurysms using minimally invasive stent graft technologies. Translational research straddles the boundaries between underpinning basic science, imaging sciences and surgical interventions.
He is a Council member of the British Society for Endovascular Therapy, examines for the Fellowship of European Board of Vascular Surgery, co-leads the GSTT Biomedical Research Centre School of Translational & Experimental Medicine and is an INSPIRE programme lead for King's.