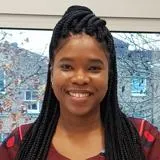 Dr Rachel Brathwaite PhD
Postdoctoral Research Associate
Contact details
Biography
I joined King's College London on 01 October 2018.  
I am currently working on the MQ funded Identifying Depression Early in Adolescence (IDEA) Project, under the supervision of Dr. Helen Fisher, conducting prediction modelling analyses to test models that predict the individualised risk of depression among adolescents using longitudinal studies from Nepal and Nigeria. 
I have an MSc in Applied Epidemiology from the University of Nottingham and a PhD in Epidemiology and Population Health from the London School of Hygiene and Tropical Medicine. 
Research interests:
Mental health 
Adolescent health 
Prediction modelling  
Epidemiology 
Non-communicable diseases 
Longitudinal studies 
Advanced statistical techniques 
Smoking 
Drug addiction 
Harm reduction 
Preventative research