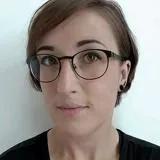 Dr Rebecca Wismeg-Kammerlander
Lecturer in German and European Studies
Biography
Rebecca Wismeg-Kammerlander is a Lecturer in German and European Studies and joined King's in 2021. She holds a PhD in German from King's and started her studies at the Goethe University in Frankfurt am Main, completing a degree (Magister Artium) in German and Philosophy.
Learn more on her personal website. 
Research interests and PhD supervision
Austrian Literature, especially post-2000
Consumer and material culture
Identity construction on individual and national levels, ontology
Prosthetics and medical technology; "damaged" bodies in contemporary literature and visual culture
Medical Humanities
In her PhD research Rebecca examined the "National Brand of Austria," exploring the ways in which elements of consumer culture – from consumer goods to brands and advertising – shape an image of Austria and its portrayal in contemporary Austrian literature. Developing the concept of "consumer literacy" and applying it to post-2000 texts by Austrian authors, she brings to the fore how consumer goods can introduce ideas of Austrian culture, history, and politics. She is particularly interested in Austrian literature and culture and the narrative role of consumer goods and other objects.
In her next project, Rebecca plans to examine the role prosthetics and medical devices play in contemporary German language literature and its discourses of human bodies. This brings together her keen interest in material culture and literature with the Health and Medical Humanities, and Crip Studies.
See full research profile on PURE. 
Teaching
Rebecca teaches modules ranging from German literature, language and culture to European history, and covering topics from European memory culture and material culture to the fall of the Berlin Wall. In her teaching, she offers different theoretical approaches and methods, and addresses questions of material and consumer culture, class, gender and race.
Her current courses focus on Germany's nineteenth and twentieth-century history and culture, as well as translation. Key issues that are explored in her modules include the impact of policy on Germany's political and economic culture, the continuing political debate about Germany's role in Europe, and German language literature in its historical and cultural context.
Current undergraduate modules:
4AAGA107 Milestones of German History,
5AAGLB09 - Translation from and into German,
5AAOB203 Politics and Culture in Cold War Germany, and
6AAGB625 German Capitalism, Business and Society
As well as contributions to:
4AAGA114 - Texts and Contexts, and
5AML0003 - Art and Culture of European Integration