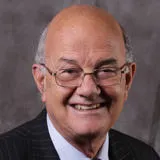 Lord Judge Rt Hon
Distinguished Visitor & Visiting Professor
Contact details
Biography
Lord Judge was born on 19 May 1941 in Malta, where he was educated until 1954. Thereafter he attended the Oratory School in Woodcote until 1959 where he was Captain of School and Captain of Cricket. He was awarded an Open Exhibition to Magdalene College Cambridge in 1959, where he read History and Law. While at Cambridge he entered the Hon Society of Middle Temple and was subsequently called to the Bar in 1963.
Appointed a Recorder of the Crown Court in 1976, Lord Judge was appointed Queen's Counsel (QC) three years later in 1979. He served on the Professional Conduct Committee of the Bar between 1980 and 1986 and the Judicial Studies Board from 1984 and 1988. In 1987 he was elected Leader of the Midland and Oxford Circuit and a Bencher of the Middle Temple. In 2014 he was Treasurer of the Middle Temple.
In 1988 he was appointed a High Court Judge, Queen's Bench Division and knighted. From 1990 until 1993, and again between 1996 and 1998, he was Chairman of the Criminal Committee of the Judicial Studies Board. Between 1993 and 1996 he was Presiding Judge of the Midland and Oxford Circuit. In 1996 he was appointed Lord Justice of Appeal and sworn in as a Privy Councillor.
From 1998 until 2003 Lord Judge was Senior Presiding Judge for England and Wales, and from 2003 to 2005, Deputy Chief Justice. In 2005 he was appointed the first President of the Queen's Bench Division.
On 1 October 2008 Lord Judge was appointed Lord Chief Justice of England and Wales and Head of the Judiciary of England and Wales. Shortly afterwards he was created a life peer.  He retired as Lord Chief Justice on 30 September 2013.
Lord Judge has been President of the Selden Society since 2009. He has been awarded several honorary degrees. These include a Doctorate of Law at Cambridge University, where he is a Fellow of Magdalene College and Distinguished Associate of Darwin College. He is a Distinguished Visitor and Visiting Professor at King's.
Contact Lord Judge - Anna Z Loutfi, Email: anna.loutfi@kcl.ac.uk