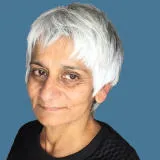 Shamime Lakda
PPIE Advisory Group member
Biography
Shamime is a member of the Patient and Public Involvement and Engagement Advisory Group of the Policy Research Unit in Health and Social Care Workforce (HSCWRU) at King's.
"My experience of being a care giver came when I looked after my mother at home as she slowly declined with dementia.
At present, I support numerous vulnerable and isolated members of my community living in my borough, by regular visits and contacts.
I bring a practical understanding of the experience and needs of carers and the cared for to the Policy Research Unit. In addition to this role, I continue to be involved with the carer and user advisory group at the NIHR School of Social Care Research and also with various research projects in the health, dementia and social care fields. My functional approach to life and my drive to seek practical solutions will, I hope, contribute in steering policy research in a more realistic and caring direction.
My background was in legal services and local government."