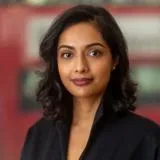 Tehminah Malik
PhD candidate
Contact details
Biography
Tehminah is a PhD candidate in the Department of Political Economy. Her research focuses on the interplay between fiscal rules and financial markets and specifically seeks to answer questions about when and how countries decide to adopt fiscal rules, if non-democracies can credibly uphold such rules through financial market pressure, and under what conditions financial markets hold sovereigns accountable for breaking the rules.
Tehminah holds a Master in International Economic Policy from Sciences Po Paris (2014), and completed her undergraduate studies in Economic and Politics from the University of Glasgow (2012). She has worked at the European Commission with fiscal policy and surveillance and is currently on a leave of absence from the Ministry of Finance of Sweden, where she works at the Division for Compilation of Central Government Expenditures. She has represented Sweden at European Commission and the OECD on topics pertaining to fiscal rules and fiscal sustainability.
Doctoral Research
The political economy of fiscal rules: adoption, compliance, and enforcement.
Research Interests
Euro Area
Financial markets
Fiscal deficit
Fiscal Policy Councils
Fiscal rules
Governance
Monetary Union
Sovereign Debt
Supervisors