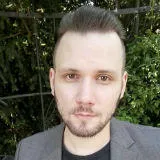 Tobias Biedermann
PhD student
Contact details
Biography
Tobias Biedermann is a final year PhD student in the Lau China Institute, as well as a former seminar leader in the Department of War Studies. Prior to his PhD studies, he studied Chinese, Asian and International Studies in Bonn, Reykjavik, Shanghai and Hong Kong.
Tobias' main research interest remains in the field of Chinese politics and society, as well as in the theory of nation and nationalism. In his research, he particularly looks at university students as the main key category of analysis and examines where, why and how Chinese students learn and express nationalism both tacitly and explicitly.
Research
Thesis title: 'Student nationalism in contemporary China: A comparative study of learning and expressing nationalist sentiment in Shanghai'
Tobias' PhD research is a comparative study that looks at how and why Chinese university students learn and express nationalist sentiment.
PhD supervision
Further details