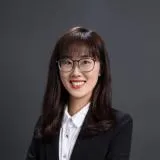 Dr Xiyi Wang RN
Research Fellow
Contact details
Biography
Xiyi is a postdoctoral fellow at King's College London under the supervision of Dr Gerry Lee.
Xiyi currently focuses on the extension of individuals' adaptative capacity throughout their health management and measuring patients' health outcomes across the chronicity ill continuum.
Xiyi's research goal was met by designing and testing the effects of behavioural self-management interventions guided by the Roy Adaptation Model for patients living with chronic diseases. Moreover, mobile health strategies are applied to improve the efficiency of cardiac rehabilitation in populations of patients with cardiovascular diseases. 
Teaching
Theory of Roy adaptation model and its implications Interventional study in chronic illness management.