Women and the City: An Evening with Architectural Historian Ievgeniia Gubkina
Please note: this event has passed
---
In association with the Bartlett School of Architecture, UCL.
Women and the City: An Evening with Architectural Historian Ievgeniia Gubkina.
Ievgeniia Gubkina's research and films focus on Kharkiv, earliest capital of the Soviet Socialist Republic of Ukraine and centre for contructivist architecture. The 3 films presented tonight interrogate gender and the complex legacy of Kharkiv's urban space from the Soviet era to today's war.
Two Stones (made together with Wendelien van Oldenburgh, 2019, 28 mins.)
You See, Time Becomes Space Here (co-dir. with Tetjana Kononenko, 2022, 15 mins.)
Sophia of Kyiv (1966, dir. Anatoly Zolozov, 19 mins.)
Q&A with Ievgeniia Gubkina (in person), Wendelien van Oldenburgh (Zoom) and Tetjana Kononenko (Zoom).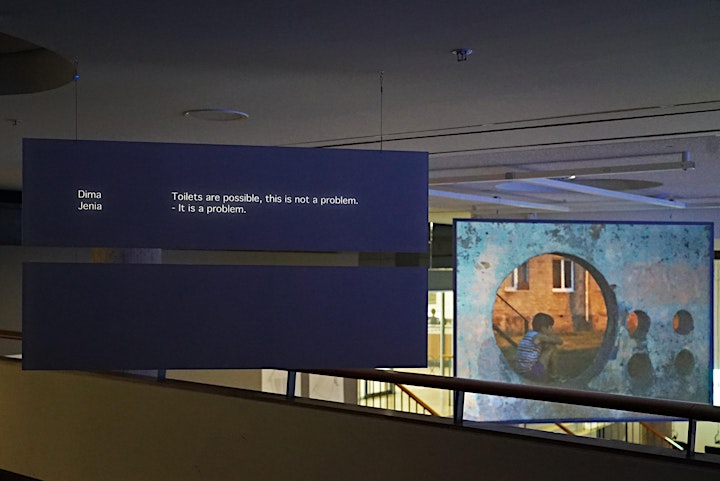 Made together with Wendelien van Oldenburgh, Two Stones (2019, 28 mins.) questions the contributions of German Bauhaus architect Lotte Stam-Beese and Caribbean activist Hermina Huiswoud first in the Soviet Union in the 1930s,and then in the Netherlands after World War II. The constructive district of KhTZ in Kharkiv, which Stam-Beese worked on, houses internal refugees from the Donbas today, who struggle with its radical design elements.
You See, Time Becomes Space Here (2022, 15 mins.), co-directed with Tetjana Kononenko, is a one-take tour of the immense space of Freedom Square, in front of the famous constructivist Derzhprom building, a.k.a. The House of State Industry, which was the first Soviet skyscraper completed in 1928. Narrated by Gubkina.
Sophia of Kyiv (1966, dir. Anatoly Zolozov, 19 mins.) A film about a monument of history, architecture and monumental painting of the 11th century. - Saint Sophia Cathedral in Kyiv, which became a manual for Ukrainian cinematographers on how to shoot architecture starting from the end of the 1960s.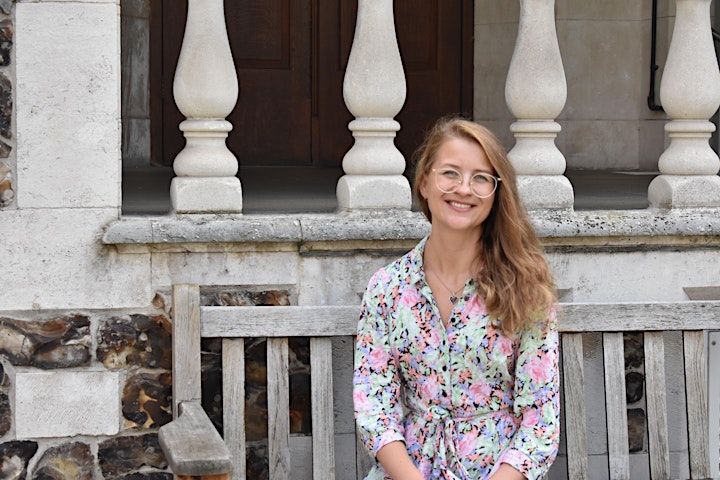 The Speakers:
(in person) Ievgeniia "Jenia" Gubkina, a Ukrainian architect, urban planner, architectural historian, and leading researcher of modernism in Ukraine. She is a co-founder of the NGO Urban Forms Center and since 2022 is a visiting researcher at UCL. Her work specialises in architecture and urban planning of the 20th century in Ukraine, and a multidisciplinary approach to heritage studies. She is the author of the books Slavutych: Architectural Guide (2015) and Soviet Modernism. Brutalism. Post-Modernism. Buildings and Structures in Ukraine 1955–1991 (2019). In 2020–2021 she curated the Encyclopedia of Ukrainian Architecture, a multimedia online project that worked with architecture, history, criticism, cinema, and visual arts.
(via Zoom) Wendelien van Oldenburgh. Born in Rotterdam, van Oldenborgh studied at Goldsmiths, University of London from 1982 to 1986. She works as installation artist, painter and video artist, and represented the Netherlands at the Venice Biennale in 2017.
(via Zoom) Tetjana Kononenko, born 1980 in Kirovograd, Ukraine, lives and works between Berlin and Tbilisi. She studied Media and Communication in Berlin and Film Directing at the German Film and Television Academy. She has been working with video and photography on projects that often deal with the issues of memory and history. Her 2020 film, The Building, is about Derzhprom.
Charity Donations
One of King's Films for Ukraine's key aims is to collect funds for charities. Donations for this event will go to ArmWomenNow.
A social initiative providing women defenders of Ukraine with army uniforms by means of donations and funds gathered by charity auctions and lotteries.
Available to book on Eventbrite
For further information, see: https://armwomennow.com/en/
Suggested Minimum Donation: £5
Event details
Lucas Theatre
Strand Building
Strand Campus, Strand, London, WC2R 2LS