Superflux and King's Culture present The Quiet Enchanting
Bush House, Strand Campus, London
18
Oct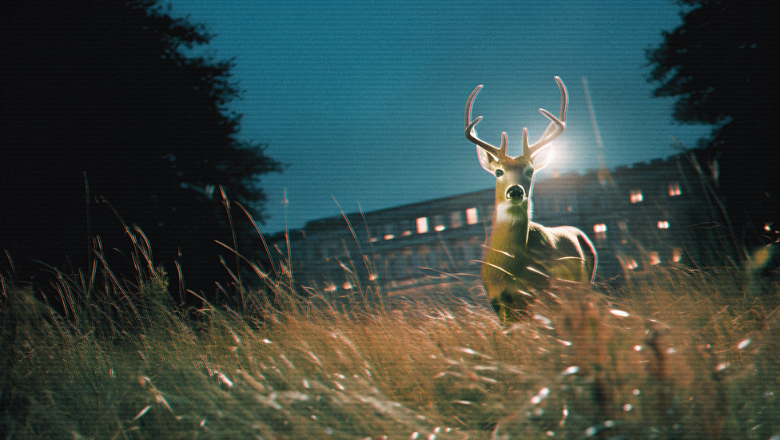 'The Quiet Enchanting'
On display on the external façade of Bush House South West Wing, King's College London, The Strand
6am – Midnight Daily
Acclaimed design studio Superflux and King's Culture present 'The Quiet Enchanting', an installation of digitally generated artworks displayed along the newly pedestrianised Strand Aldwych from 17 October 2023.
As visitors walk along the Strand, 'The Quiet Enchanting' places them in a speculative world where the surrounding Borough of Westminster has been rewilded. A series of digital screens and printed artworks, installed on the external façade of Bush House South West Wing, imagine a mythic time of ecological abundance, where London's recognisable landmarks exist in harmony with the natural world.
'The Quiet Enchanting' supports King's Climate and Sustainability action plan, which seeks to accelerate climate research, education and action across the University with the aim of influencing climate adaption and enabling just and fair transitions to net zero. 
About King's Culture
King's Culture enhances the impact and engagement of King's through creative approaches and collaborations, exploring contemporary challenges with imagination and expertise for social and cultural impact. The specialist knowledge exchange unit works with academics, students, the Creative and Cultural Industries (CCIs) and local/international communities, catalysing new opportunities for knowledge exchange between the university and external partners across a wide range of disciplines. For more information: kcl.ac.uk/cultural
About SUPERFLUX
Founded in 2009 by Anab Jain and Jon Ardern, Superflux is a design studio, consultancy and research lab that constructs speculative worlds and experimental scenarios that allow their clients and themselves to imagine and explore alternate futures. 
---
Search for another event