28 March 2018
12th annual Senior Dental Leaders programme held in London
12th annual Senior Dental Leaders programme held in London
Another cohort of accomplished delegates recently gathered in London from March 4-9 to attend the 12th annual Senior Dental Leaders Programme (SDL-12), an international conference designed to develop high-level leadership and management capabilities in oral health leaders from around the globe. Over 200 participants from over 43 countries now count themselves as part of the highly connected senior dental leader network.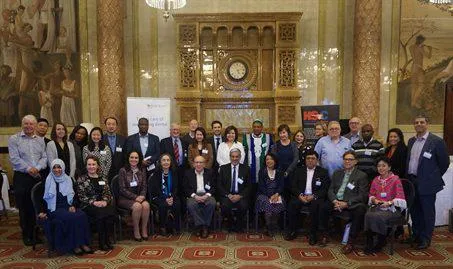 First conceptualised by Professor Raman Bedi in 2007 at King's College London, the Senior Dental Leaders Programme is organised by the Global Child Dental Fund, King's College London Dental Institute, and the Harvard School of Dental Medicine. SDL continues to be co-sponsored by Henry Schein, Inc., and Colgate-Palmolive.
The intensive multi-day conference brings together dental policy makers, national Chief Dental Officers, representatives from NGOs, and members of the clinical and academic communities, who worked to forge an international collaborative network with the goal of advancing the mission of a cavity-free world for children. Speakers at the Programme included Professor Mike Curtis Dean of King's College London Dental Institute; Dr. Bruce Donoff, Dean of the Harvard School of Dental Medicine; Dr Marsha Butler, Vice President of Oral Health and Professional Relations, Colgate-Palmolive; Mr Stanley M Bergman, Chairman & Chief Executive Officer, Henry Schein, Inc.; Professor Jenny Gallagher; Dr Marion Bergman and Professor (Dr.) Mahesh Verma.
Professor Raman Bedi, Chairman of the Global Child Dental Fund, said:
"Leadership training in oral health is just as important as gaining clinical skills. It is not only necessary for dentists but a whole range of other health professionals such as doctors, nurses and health visitors. Leadership development is also crucial for schoolteachers around the world to advocate for better child oral health."