16 November 2018
2018 World Trade Summit
On Wednesday 1 November 2018, King's Business School hosted the Institute of Export & International Trade (IOE&IT) annual World Trade Summit at Bush House in partnership with Barclays and King's College London Policy Institute.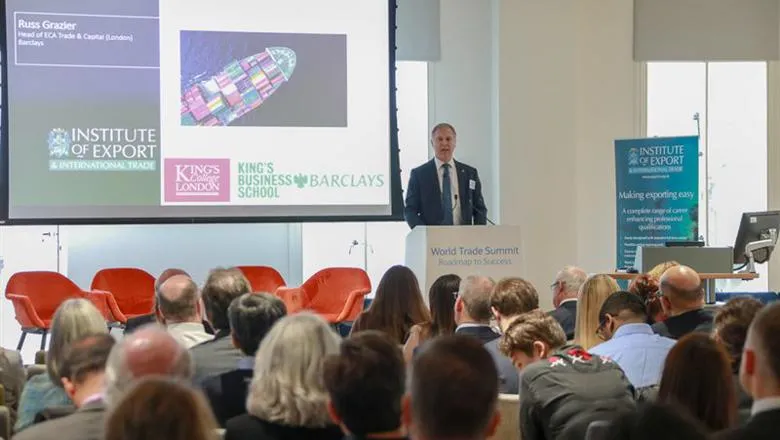 Russ Grazier (Head of ECA Trade and Capital – London, Barclays). 2018 World Trade Summit
Guests on the day included key business leaders and decision-makers from both government and industry, including Baroness Fairhead (Minister of State for Trade and Export Promotion), Louis Taylor (Chief Executive of UK Export Finance) and Chris Southworth (Secretary General of the International Chamber of Commerce).
The summit started with an introduction from the IOE&IT's Director General, Lesley Batchelor OBE who shared their work with the World Trade Organisation and International Chamber of Commerce. Russ Grazier (Head of ECA Trade and Capital – London, Barclays) and Mark Kleinman (Director of Analysis & Professor of Public Policy, King's College Policy Institute) followed Lesley to talk about the new research paper launched by Barclays and King's College London at the summit, titled 'Removing barriers to export growth: Regional and sectoral perspectives'.
Mark Kleinman spoke about the need for more super exporters and the importance that we keep Trade at the centre of the UK's political dialogue. Mark said about the research paper findings: "When exporters grow…they create valuable opportunities for smaller firms through their supply chains". The research paper is in partnership with Barclays, King's College London's Policy Institute, the Entrepreneurship Institute and King's Business School to look at how the UK can improve its export performance.
Baroness Fairhead next spoke to guests about the work being done by the Department for International Trade (DIT) and UK Export Finance (UKEF) to implement the government's Export Strategy, launched earlier in 2018. With only one in eleven businesses exporting in the UK, Baroness Fairhead highlighted the importance of tailored communication from peers who have done it before to encourage exporting from UK businesses. Baroness Fairhead also focused on the increasing support for UK businesses and the power of Britain made goods: "Recent Barclays research showed that 61% of buyers in China were willing to pay more for products made in Britain".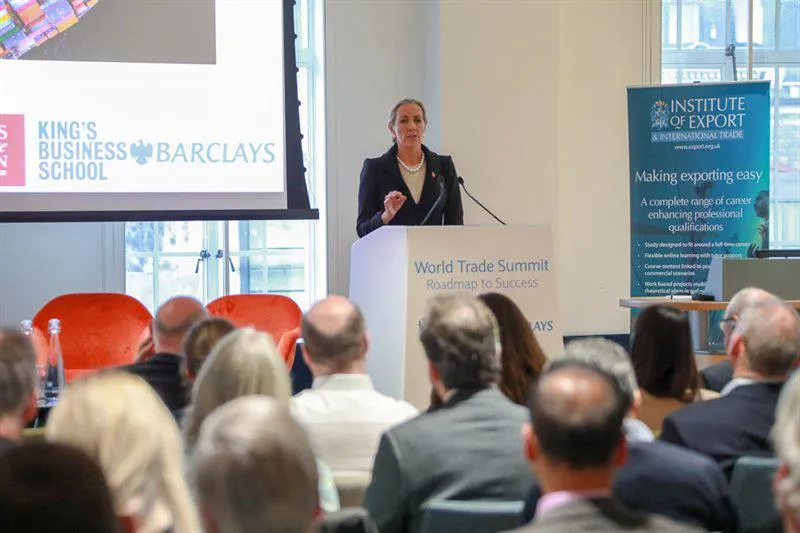 Baroness Fairhead
The second half of the day consisted of a panel discussion about how businesses can plan the 'roadmap to export success' and a case study presentation by Nick Ravenhall (Global Head of Sales, Atom Brands). Nick talked about his experience exporting Atom Brands gin and whiskies around the world, sharing his advice to focus on the people who care about what you do rather than just looking at geographical markets. Lord Green of Hurstpierpoint (President of the IOE&IT) closed the evening stating that increasing exports is a fundamental requirement for the future of the UK economy, especially as it looks to become more independent and less reliant on being a consumer of other markets.
The summit ended with a lively reception featuring samplings from Atom Brands craft gin and whiskey. Read more about the Summit from The Institute of Export & International Trade.