01 April 2019
2019 Dental Alumni Weekend
The 2019 Dental Alumni Weekend was held early March.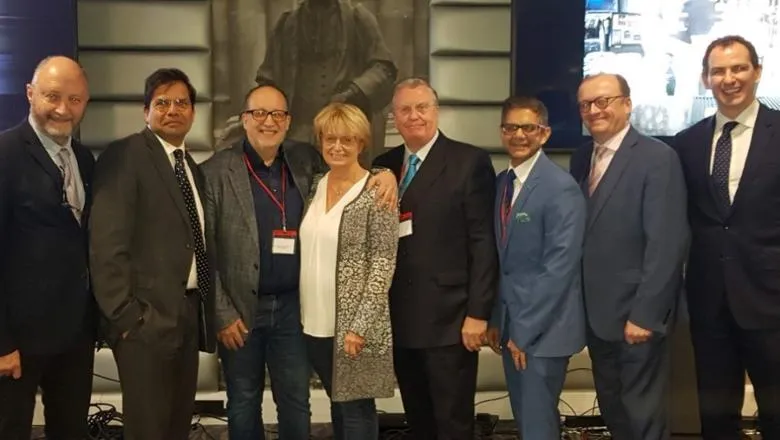 Dental Alumni Weekend 2019
With the Beast from the East a distant memory the journey to the Alumni Weekend was a much easier one this year and it began on Friday afternoon 1st March with the Hygienists' and Therapists' Specialist Section meeting in the historic Gordon Museum with interesting and entertaining talks from Clarissa O'Keefe on "Linking dementia and oral health"; Dr Jennifer Hare and Dr Bryan Kerr on "Virtual Reality Exposure Therapy (VRET) to enhance Cognitive Behaviour Therapy (CBT) for the treatment of dental anxiety" and Fiona Sandon explaining "On the road to exemptions".
The Friday afternoon again also featured the John McLean Fellowship Symposium held in the Robens Suite on Floor 29, Guy's Tower. This symposium is organised as a tribute to the late Prof John McLean, an eminent internationally-renowned dental scientist, with links to the Faculty of Dental Surgery (RCS Eng) and King's College London. This year the 6th symposium, run by the McLean Foundation, KCL and RCS(Eng) was entitled, "A 20/20 vision of Restorative Dentistry - fake news or future views?"; the programme promised to take a look at future clinical advances in the disciplines of Restorative Dentistry, trying to sort the wheat from the chaff in terms of all the clinical developments that are ongoing to aid patient treatment.  Five high quality internationally regarded speakers – Dr Alfonso Gil, Dr Herve Tassery, Dr Chris Orr, Dr len D'Cruz and the Dental Faculty's own Dr Rupert Austin -  gave up their time for free, to educate and entertain the delegates with an array of beautifully illustrated and presented clinical skills, scientific knowledge and real-life applications of innovation to Restorative clinical scenarios (including surgical Periodontology, Cariology & Operative Dentistry, Prosthodontics, digital dentistry and a medico-legal point of view present and future), whilst keeping the audience's feet firmly on the ground with what is realistically achievable in good clinical practice.
The symposium was kindly hosted by Dave Winkler and Avijit Banerjee, with John McLean's daughter, Dee, in attendance. The afternoon was co-chaired by Prof Nairn Wilson and Dr David Winkler and the programme developed by Prof Banerjee and Dr Winkler. Generous sponsorship was donated by seven industry partners, and the delegate numbers swelled to nearly 80 in the Robens Suite, with a proportion of Faculty undergraduates being wowed by the high calibre of the event. We are sure the late John McLean would have approved.
The Dental Alumni Association's SPS sponsored Staff and Alumni Dinner was held in the Robens Suite on the Friday night. It proved yet again to be a very popular occasion. In fact so popular that not everyone who wanted to attend was able to because of lack of room on the 29th floor. This prompted our Executive Dean Professor Mike Curtis to ask dinner guests the question "Do we need a bigger venue?" The assembled gathering replied with a resounding 'YES'. Next year's Committee will be challenged to find a larger space, hopefully in an hotel close to Guy's, to accommodate the increase in demand. There was the usual convivial atmosphere with a mixture of Alumni and students sharing and catching up with each other's news. Particular reunion groups included colleagues who graduated in 1989, 1999, and 2009.
Particular reunion groups included colleagues who graduated in 1989, 1999, and 2009.
Light entertainment was provided once again by Tomos Lavery who sang for us, accompanied by Catrin Meek on her harp, between courses.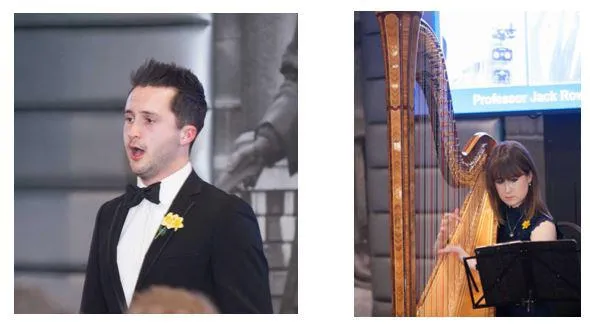 Tomos Lavery and Catrin Meek.
Eric Whaites, in his capacity as President of the Dental Alumni Association presented the Alumnus of the Year Award to Professor Nigel Hunt, - a 1974 Guy's graduate, Professor of Orthodontics at the Eastman and former Dean of the Faculty of Dental Surgery of the Royal College of Surgeons of England.  Unfortunately because of prior commitments Nigel was unable to attend but in his absence the Award was received on his behalf by Professor Michel Escudier, the current Dean of the Faculty of Dental Surgery.
Eric presented the Distinguished Service Award to Dr Pepe Shirlaw, Consultant in Oral Medicine and former Clinical Director of the Dental Hospital for her decades of service to the Dental Institute. Both Nigel and Pepe were very popular and deserving winners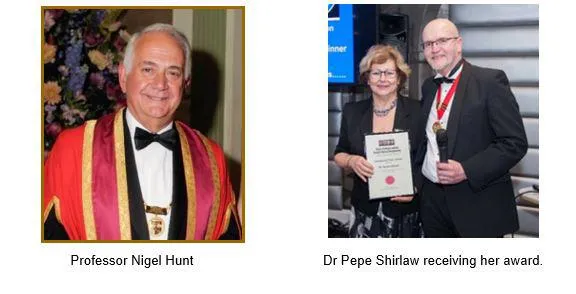 Nigel Hunt and Pepe Shirlaw
The raffle of a generous array of prizes, provided mainly by staff and alumni, was hosted by Staff Dental Society President Dr Tom Bereznicki and Student Dental Society President Tom Hayes-Powell provided excitement and disappointment in equal measure.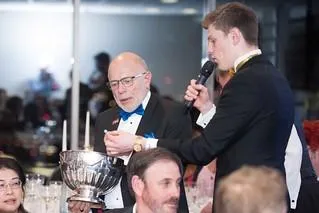 Tom Hayes-Powell and Dr Tom Bereznicki.
As can be seen, a great evening was had by all.
Please remember to save the date Friday 6th March 2020 for next year's Staff and Alumni Dinner and join in the fun and celebrations!  
The Alumni Weekend resumed on Saturday morning with Clinical Open Day. Registration in the Robens Suite on Floor 29 revealed some 'new' faces and some reliable stalwarts of Clinical Day who are always a pleasure to see and who make the day so enjoyable.
The presentations kicked off In the Tower Lecture Theatre on Floor 30 with Vinod Patel, Consultant Oral Surgeon expertly delivering the Rod Cawson Memorial Lecture entitled "Osteonecrosis of the jaws - Around in the past, seen in the present …and rife in the future?" He covered the range of medications notorious for the potential to cause MRONJ very effectively with great slides and pictures and a relaxed manner; he was quick to reassure us early on that he would personally happily accept these medications if they were prescribed for him.  As full time Consultant in Oral Surgery leading the Trust's 'Bone & Necrosis Clinic' it was fascinating to learn from him and reassuring that he has such a great team to deal with these problems, if they arise.  It was particularly helpful to learn that some cases of osteonecrosis/ sequestrum have proved to be present before the extraction and hence the dentist/dental treatment cannot be to blame for the poor healing. He explained that even patients with cancer and no metastases are now being prescribed Bisphosphonates, for example in early stage Breast Cancer, Zemeta prevents a later recurrence. We certainly felt much wiser in this subject by the end of his brilliant presentation.
Professor Mike Curtis, Executive Dean, introduced the Dental School's new name and structure - Faculty of Dentistry, Oral & Craniofacial Sciences comprising four Centres and Prof David Bartlett as Lead for the Centre of Oral, Clinical & Translational Sciences outlined the Team and their hugely varied interests.
A refreshment break enabled a chat with alumni colleagues and old friends as well as the sponsors who generously supported the event. Back on Floor 30 Professor Francis Hughes very effectively delivered the Walter Herbert Memorial Lecture, entitled "Periodontal prognosis and treatment outcomes-planning for long term stability." As the Dental Alumni Association's 'Alumnus of the Year' for his international achievements in 2018 he was the perfect person to be somewhat provocative as to question the measures used in Periodontology today for predicting tooth loss. Even teeth deemed of poor periodontal prognosis can last longer than we might expect. Clinicians seem to overestimate risk in low risk groups but underestimate risk in high risk groups. Patient specific factors such as compliance, smoking, systemic health, specific bacteria and genetics are more relevant to outcome than tooth specific factors. Peri-implantitis is proving difficult to treat and, in periodontally susceptible patients, alternatives to implants should be considered as a priority. He could confirm fortunately that periodontal treatment does extend the life of teeth.
The Dental Alumni Association held it's AGM before the Dean's Lunch and was well attended by over 70 members. Eric Whaites, the President of the DAA, updated the members on the activities of the Association during the year, most notably the Alumni Appeal towards the refurbishment project of Floor 31,32 project in the Tower. The Alumni Association had originally set an initial fund-raising target of £250,000 and thanks to the generosity of alumni and staff the total raised to date was £235,000. Eric thanked the donors and advised he will continue to oversee the Project while serving on the Committee as Past President.
To conclude the AGM Eric handed over his Presidential Chain of Office to Vincent Barrett, as incoming President, for the next two years. Vincent explained that his mission is to encourage Alumni to keep in contact with the Association and to engage with the young Alumni.
During the Dean's Lunch Tours of the Clinical Teaching facilities on Floors 21 and 22 were led by current dental students. Everyone was impressed by the changes and new equipment displayed.
The Weekend concluded with four limited-attendance hands-on workshops including:
An introduction to surgical implant placement run by Dr George Paolinelis and Dr Mac Suleiman
Putting you in the picture – hints and tips for improving your SLR based clinical photography run by Dr Suzie Moore
Introduction to Cone Beam CT for GDPs run by Dr Suk Ng
Update on intraoral scanning and CAD/CAM in Restorative Dentistry run by Dr Rupert Austin
The feedback from the overall Weekend was extremely positive and plans are already in place to organise next year's Dental Alumni Weekend on Friday 6th and Saturday 7th March 2020. Please put the dates in your diary and ensure that you can become one of the 'new' or 'old' faces enjoying the event next year.  Our sincere thanks to Juliet Ellwood, the Dean's Executive Assistant, for all her time and effort in organising the very successful Weekend.
Charlie Spedding – Secretary Dental Alumni Association
Avi Banerjee – Organiser John McLean Symposium
Vincent Barrett – President Dental Alumni Association