05 August 2020
2020 UK and International Elective Prize Winners
Congratulations to the dentistry students who took part in an elective this year.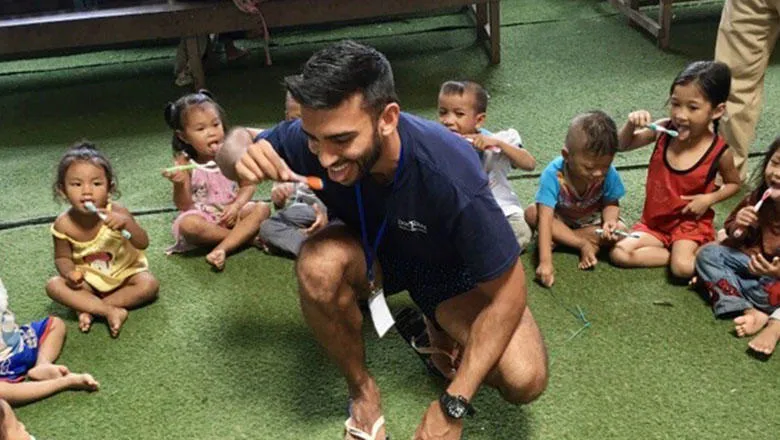 Utkarsh Dandekar demonstrates tooth brushing in Cambodia as part of his elective programme.
Each year our final year students are able to take part in an Elective Programme, where they have the chance to undertake a clinical placement either overseas or in the UK.
As part of the programme this year, our  graduating BDS5 students travelled to over 20 countries to explore and reflect on how dentistry is performed in a different cultural environment. Around half of the students chose a UK destination, and gained valuable skills in different specialties, or learned how dental practices are run.
The International and UK Elective prize, supported by Professor Jenny Gallagher, Dean for International Affairs and Deputy Executive Dean Professor Michael Escudier, was awarded to a winner and two runner-ups in each category. These were selected on the students' reflective paragraphs that discussed their learnings during their Elective, in relation to King's Vision 2029.
Please join us in congratulating the winners and runner-ups. They have shared their stories below and these demonstrate the breadth of experience and skills that they have gained, and the life-long memories that they have made during their Elective programme.
International Elective Prize
Winner: Utkarsh Dandekar
Runner up: Ariella Wulwick
Runner up: Jia Shang Lau
UK Elective Prize
Winner: Morgan Rees
Runner up: Tavia Chetty
Runner up: Sophie Lane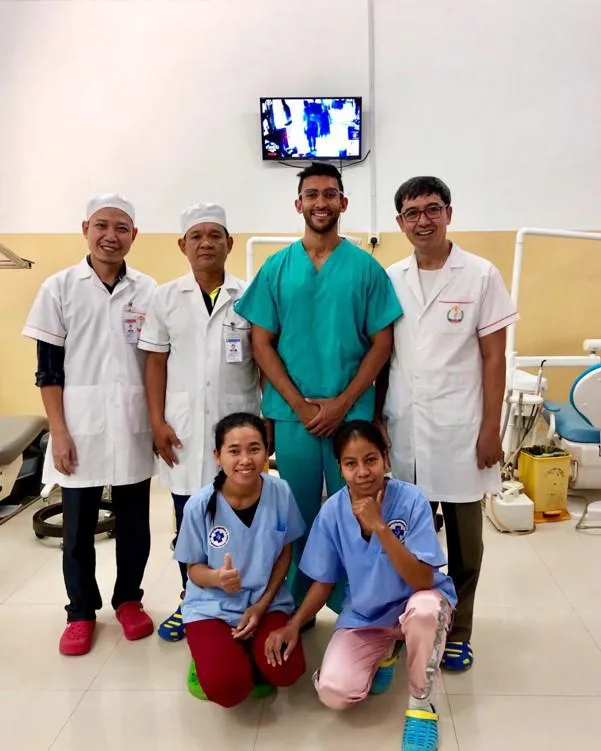 Utkarsh Dandekar on his elective programme in Cambodia.
International Prize winner
Utkarsh Dandekar, Battambang – Cambodia
Ever since entering dental school, I had always looked forwards to doing an elective as it was a fantastic opportunity to travel the world and give back to the community by doing dentistry. My experiences were better than I could ever expect, and it truly has been one of the highlights of my times at King's College London.
As a then 4/5th year, I was competent in basic dentistry and so I wanted to give back to an area where dentistry is really needed. During my elective, I supported the team delivering a range of clinical care including several hundred patients requiring fillings, root canals and extractions. Although many people didn't speak English, my mission was to serve the community with many patients arriving in pain. The rates of dental decay is high in Cambodia and it was thoroughly rewarding to help combat this particularly in patients who cannot afford dental treatment. GSK kindly donated boxes of toothpaste which I was able to distribute to those who really needed it.
By conducting my own research, I was able to outline the young age of adults having extractions which could influence policy makers in Cambodia to place more importance on oral hygiene that can positively change people's lives.
Volunteering at an orphanage made me proud to be a part of the contribution King's makes both nationally and internationally. Since there is little importance being placed on prevention, I gave oral hygiene advice and inspired children to brush their teeth. It was rewarding to teach and educate, and I know my efforts will allow them for good oral hygiene in their future.
I had a wonderful 7 weeks in South East Asia and was very lucky to visit countries including Indonesia, Singapore, Malaysia and Thailand. It has been truly humbling to provide care to a high-needs community whilst representing King's College London. I'd like to thank DocTour Volunteers for organising everything for me. I'd also like to thank King's College London Dental Institute for supporting such a wonderful initiative. Dental students are very lucky to have an elective and it truly is an opportunity to give back, travel and grow as a person. I look forwards to doing more charity missions in my future career as a dentist.
UK Elective Prize winner
Morgan Rees, UCL Eastman Dental Institute and King's College London research studentship
My name is Morgan Rees and I was very proud to win the UK Elective Prize this year. Last summer I completed my elective in the UK; I decided to stay in the country due to the UK-based opportunities that I was fortunate enough to secure. I have a strong interest in research, having completed an MSc before starting dentistry, and was keen to use my elective to gain more research experience. I spent two days working with PhD students at the Centre for Oral Health & Performance at the UCL Eastman Dental Institute, and six weeks undertaking research on a summer studentship at KCL under the title, 'The use of index teeth to quantify erosive tooth wear progression'.
The studentship at KCL allowed me to work on a research project with several academics, headed by Dr Saoirse O'Toole. I helped to calculate the toothwear present on each intra-oral scan using specialist software. The summer studentship research is at the forefront of its field and can revolutionise how toothwear is monitored by GDPs, helping patients to understand and treat the disease. I was extremely proud when the paper was published in June 2020 in the Journal of Dentistry. I was also invited to present the work at the KCL Research Away Day earlier this year, speaking in front of many of the academics at KCL.
My two days at the Eastman allowed me to learn all about their faculty, how it differs from KCL, and the work they are completing. I was asked to assist at two dental screenings with an international elite sports team. This was an amazing opportunity and I learnt a lot about the relationship between dentistry and sport, which was of particular interest to me as it related back to my MSc.
I thoroughly enjoyed my elective and would recommend that any future student should consider the opportunities that are available without having to travel abroad.
International Elective Prize Runner-up
Jia Shang Lau, Malaysia
I just finished my final year at King's College London. Last summer I completed a week of my self-organised elective at University Malaya in Malaysia. Being a Malaysian myself, I felt that it would be interesting for me to experience how dental school was run in my home country.
Malaysia is a melting pot of people from all walks of life with various ethnic groups and a unique culture. Since most if not all Malaysians are multilingual, it was fascinating to see how quickly dentists could switch to another language during a consultation, tailored to their patients. I remembered vividly an incident that I personally found it particularly challenging when I had to translate for a Chinese patient once down at Denmark Hill, even though I speak Mandarin at home with my parents! Besides, I was also told some dental students picked up a new language/ dialect over their five years in dental school to communicate with their patients, which I was really impressed with!
During the visit, I was very fortunate to be allowed to scrub in for various multi-disciplinary procedures at the operating theatre. I observed exciting procedures such as lingual frenectomy, autotransplantation of a permanent canine and surgical repair of the mandible following a traumatic episode. I found it really enjoyable to see how the surgeons were so highly skilled and worked with such impeccable intricacies, especially when working in a confined area such as the mouth. Although the experience felt intense at that time, I was glad to be given the opportunity and found it really insightful.
During my time there, I also tagged along with the dental undergraduates. Quickly, I realized how lucky dental students at King's were, as we had access to a huge range of materials and never did we need to think about the cost. In Malaysia, some students purchased their own restorative materials/ burs to try out the various brands. They also worked after university hours in the evening in the dental laboratory, diligently working at their own denture work!
Overall, it was definitely a one-of-a-kind experience. Thanks to everyone at the University of Malaya and FoDOCS for making this unique experience possible. I would recommend that anyone interested in international elective to consider applying, as it is a truly enriching experience!
International Elective Prize Runner up
Ariella Wulwick, South Africa
Throughout my elective I worked with the Dental Wellness Trust (DWT) to improve oral health in the townships of Cape Town; Mfuleni and Khayelitsha. The DWT is a charity founded by Dr Linda Greenwell in 2011 with the aim to provide tailored health education including oral health advice, diet advice and healthy habits such as washing hands. The charity works closely with community representatives known as 'Mamas' who are associated with primary schools, operate 'Educare centers' (nurseries), and run afterschool 'LiveSmart' programs to spread the message of healthy habits. Dental wellness trust provides toothbrushes and toothpaste for the thousands of children who take part in their programs. The children are supervised brushing their teeth with fluoridated toothpaste at least once a day by the Mamas.
The most striking difference between the UK and South Africa is the lack of a national health service. This leaves the deprived population of south Africa with far too few options. I had the opportunity to observe the work within the University of Western Cape (UWC) Tygerberg Hospital and meet the Dean of the Dental Department, Prof YI Osman. Prof Osman described to us how waiting lists can be as long as 3 years indicating the unmet need of the population.
I was able to observe the Department of Community Oral Health. This department is aimed at providing emergency treatment to those who would otherwise not be able to access care. They provide a mobile oral surgery unit in Kraaifontein. This clinic is usually run by final year students on their outreach under the supervision of tutors from UWC. My time at the mobile oral surgery unit was the highlight of my trip as I was able to see how initiatives can directly affect change and aid the local community.
Additionally, I was able to observe work at the OptiSmile clinic with Dr Kaveer Ratan. OptiSmile is a purpose-built, private dental clinic in Sea point Cape Town with a special interest in tooth wear and multi-disciplinary cases. With the generous assistance of Dr Clifford Yudelman and his partners at OptiSmile Dental Clinic the DWT volunteers were able to host a conference with talks delivered on essential topics including PPE, running a successful LiveSmart program and safeguarding.
I thoroughly enjoyed my time in South Africa and would strongly recommend future students to go abroad to experience a different healthcare system and learn what's out there.
UK Elective Prize Runner up
Tavia Chetty, Private and NHS dental practice
I carried out my elective in London at Dawood & Tanner specialist private practice on Wimpole Street and at Kind & Dental mixed NHS and private practice in Islington.
At Dawood & Tanner, I observed complex implant procedures and learnt about cosmetic treatments which I had not seen previously. My highlight was watching zygomatic implants being placed under intravenous sedation. The experienced clinicians shared their knowledge with me whilst working on highly challenging cases. Many of the clinicians are internationally renowned and some of them teach undergraduate / postgraduate students at King's College. The practice co-principal introduced me to the society she set up, the 'British Women's Society of Implant dentistry'. I volunteered to advertise and help out at their upcoming conference, which was thoroughly enjoyable. My experience at Dawood & Tanner sparked my interest in implantology and made me keen to explore this field further.
At Kind & Dental, I learnt about dentistry in general practice and about NHS dentistry in a primary care setting. I shadowed an associate dentist, who worked efficiently with her dental nurse, seeing 20-30 patients each day. Kind & Dental is a training practice; therefore, I had the chance to talk to the foundation dentist and learn how she managed patients with a high dental need. There was a diverse patient base, with patients from a range of ethnic and socioeconomic backgrounds. In Islington, there is a high level of caries in children compared to other London boroughs and there are large discrepancies across the borough. I noted the dentists' emphasis on preventative care and the focus on engaging children to enable them to shape their oral health.
My elective gave me more insight into NHS and private dentistry as practised in my own country, which is where I would like to work in future.