10 January 2019
5 mins with… Aleksander Ivetic
Dr Alex Ivetic is a Senior Lecturer within the School and currently Postgraduate Coordinator at the Denmark Hill Campus. He started at King's in 2009 and is interested in cellular and molecular mechanisms regulating inflammation in health and disease. Alex was recently appointed to the role of School Lead for PGR and will take on these responsibilities from Professor Alberto Smith in February this year.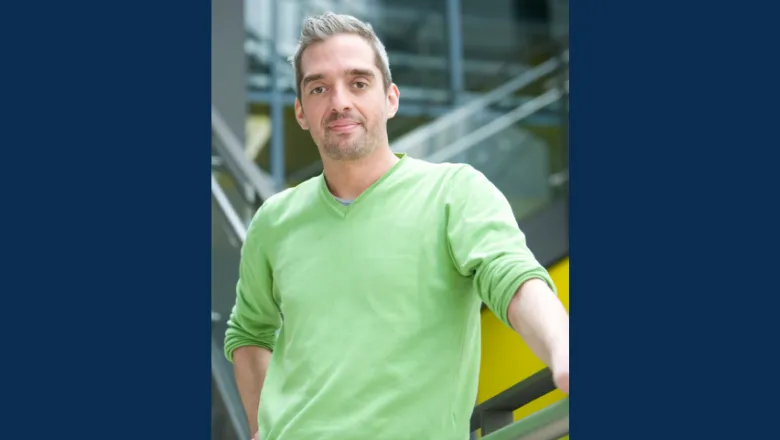 Dr Aleksander Ivetic
Briefly, tell me about your background and career up to this point.
I studied Biochemistry at Imperial College and in my second year I worked in a Biochemistry lab over the summer holidays. From that moment on I knew I had to do a PhD.
I moved (with my "summer supervisor") to a tiny institute in Oxted, called the Marie Curie Research Institute (part of Marie Curie Cancer Care and the Institute of Cancer Research). This charity also provided my mother with excellent palliative care when she had terminal cancer in the mid-1980's.
After spending half my PhD in the cold room purifying proteins, I moved to the NIMR (now part of the Francis Crick Institute) and took up my first postdoc to begin my interests in leukocyte adhesion and the cytoskeleton. I then moved to the Ludwig Institute of Cancer Research where I expanded my expertise from protein biochemistry into cell biology.
I was then awarded a Wellcome Trust Career Development Award to start my own group, returning back to Imperial College (at the National Heart and Lung Institute), where I was sponsored by Professor Dorian Haskard. Back then you only had only four years of funding to prove your worth in science!!!
In 2009 (and 11 years after graduating from my PhD) I landed my first permanent job within the School and I've not looked back. I absolutely love it here and I think we're really lucky to have a great grouping of scientists in this School.
What research are you currently working on?
Broadly speaking, we're interested in the cellular basis of inflammation. Our work focuses mainly on endothelial cells and leukocytes.
In one project we are exploring novel mechanisms that regulate endothelial cell permeability. We're investigating the impact of Nox2 on the cytoskeleton, via a redox-sensitive kinase that sits between these two entities. Justin Joachim, my postdoc, is knee-deep in really interesting stuff right now and its great discussing his findings and bouncing ideas off one another to advance the project.
Another big aspect of my work is leukocyte recruitment during inflammation. Sam, my PhD student (and the world's biggest Kylie fan), is looking at mechanisms that promote neutrophil recruitment and effector function in venous thrombus formation and myocardial infarction. He's looking at ways in which we might improve outcome, by blocking L-selectin shedding. This has a clear route to translation, and we hope one day to generate a drug.
What is a typical day like for you?
Firstly, a typical day for me is NEVER the same, and that's what is so great about my job.
The first semester is a busy one for me, with respect to teaching (e.g. hosting lectures, seminars workshops/practicals). I'm also hosting some bright talent in the lab this semester: Hannah Green (4yr MRes/PhD student), Elizaveta Ermolaeva (Final year BSc student), Yue Yang (previous MSc student, now working voluntarily in the lab) and Asmma Doudin (a Joint PhD student from Göttingen) all joined around the same time. Ensuring projects are moving at a pace that excites everyone is really what always excites me. Amid that, I'm writing a couple of papers, and a review article (with the help of Hannah and Sam, who are co-authors).
Where is your research area heading in the next five years?
We've recently had some very exciting results that can take us towards very translational routes, which I am currently exploring with various funding agencies – both internal and external. Steering basic science into translational medicine – literally from molecules to cells to animal models and finally human subjects is an extremely rewarding endeavour.
What would you like members of our School to most know about you and your research area?
I have had female PI's throughout my scientific career: Sue Cotterill ('summer supervisor' at Imperial College and PhD supervisor at the Marie Curie Research Institute), Ann Ager (1st Postdoc supervisor) and Anne Ridley (2nd Postdoc supervisor). All amazing women, and I would not be here without their support and encouragement.
Inflammation is where it's at!!
What is your favourite part about your current role?
Being a multitasker. I still engage in benchside research because I still absolutely love it. Doing the perfect flow assay for me is still very gratifying. I'm such a geek…
What do you do with your time outside of academia?
Sorry… "time outside of academia"? There is not enough time in academia, let alone outside of it!!
Many of my friends are artists and they get me to act in short film productions, (which have gone to international short film festivals and won awards), pop videos, and photo shoots. It's a lot of fun and you get to work with real professionals. I've recently posed for an album cover. You'll never know it's me because it's just my legs! Haha!!
What advice would you give to your 18-year-old self?
Don't smoke!! I started when I was very young. I stopped before I started at King's. 22 February 2019 will be 10 years.
Who do you look up to (inside or outside of academia)?
My Dad is my biggest inspiration. He was a shepherd in Bosnia (now living in Shepherd's Bush), he fought in WWII, was a coal miner in Wales, carried me through most of my teens as a single parent father and makes laugh so much.
Any leaving remarks that you would like other members of our school to know about you?
I was an extra in the Monty Python film, "The Meaning of Life".
QUICK-FIRE:
Favourite Movie:  Precious, Paris is Burning, Carrie
Favourite Book:  Take It Like A Man: The Autobiography of Boy George, Sapiens, a brief history of humankind" by Yuval Noah Harari
Favourite TV Show: The Sky at Night
Favourite Scientist: The dynamic duo: Doudna/Charpentier. They deserve the next Nobel Prize!
In this story