24 May 2019
5 mins with… Richard Parsons
Dr Richard Parsons is a Senior Lecturer in Biochemical Toxicology in the Department of Pharmacy. Richard's primary research focus aims are to identify why neurones die in diseases such as Parkinson's and Alzheimer's, with the aim to develop drugs which can interfere with these disease processes. Richard's teaching roles include Year 1 Lead and Chair of the Sub-Assessment Board for the MPharm programme. Richard has been at King's since June 2008.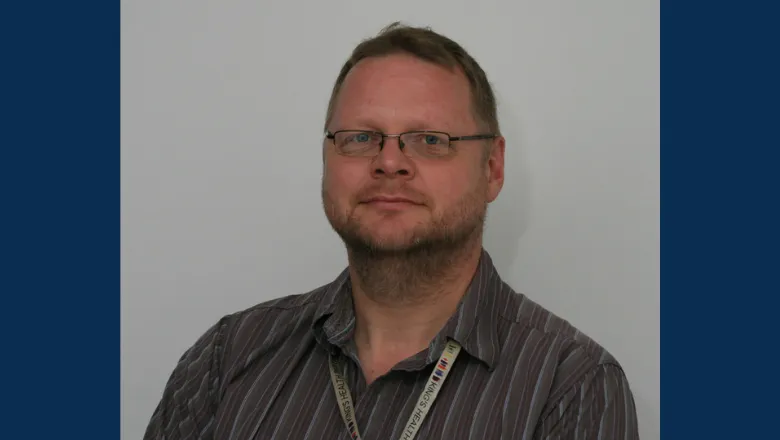 Dr Richard Parsons
Briefly, tell me about your background and career up to this point.
I am the youngest of four children, born and brought up in the Black Country (NOT Birmingham!). I was inspired to go to university by my oldest brother, who was the first in my family to go to uni. I studied Medical Biochemistry at Birmingham University, followed by a PhD in Biochemistry at Birmingham University. I then did my first post-doc position at – yes, you guessed it – Birmingham University. After meeting my soul mate, who just happened to live half way across the country in Kent, I was inspired (!) to take up two short post-doc positions, firstly at UCL and then at St. George's, University of London. It was whilst I was at SGUL that I was awarded my first grant, and thus became an Independent Research Fellow. I subsequently moved to King's in June 2008. I was promoted to Senior Lecturer in 2014.
What research are you currently working on?
 I am currently working on understanding the molecular mechanisms which underly the death of synapses – the connections which neurones use to "talk" to each other – in neurodegenerative diseases such as Parkinson's and Alzheimer's. These diseases are generally thought to be an "old-persons'" diseases, as most of the cases (95%) are what we call "sporadic" and don't present symptoms until a patient is in their 60's. However, the disease process is occurring much, much earlier, probably as early as when a patient is in their 20's, and it is during this time that these synapses are dying. If we can find out why they are dying, maybe we can stop that from happening. We have some very interesting molecular targets, along with some candidate drugs, which show a lot of promise. We are confident that, using our approach, we will be able to at least slow the disease down or maybe even stop it.
What is a typical day like for you?
 My day always starts at 5am with walking my dog Lucky. I get into the office at about 8.45 – 9am. I usually spend about an hour or so answering emails, which is then followed by teaching, either direct contact or assessments. I will then talk to my Research Assistants, email or Skype my international collaborators, write grants (if I am lucky!) and write papers. I may also have to review papers or grants. At the moment, I am spending a lot of time sorting out exams and attending teaching and assessment committees. I leave around 5.15pm and arrive home about 7pm. 
Where is your research area heading in the next five years?
We are really beginning to understand why the synapse is dying in Parkinson's and Alzheimer's, which is exciting as we are now in a position to start screening drugs which will interact with these molecules, or mimic their normal function, and thus may serve as novel therapeutics for diseases which, currently, have no cure. We have several candidate drugs which we are in the process of screening, so in five years' time I hope to be able to say that we have the first drug which will treat the causes of these disease's symptoms, not just mask their symptoms. If (no, when) we are successful, this will make a real difference not only to the lives of patients with these terrible diseases, but to their family members and carers.
Neurodegenerative diseases are becoming more common as the proportion of the elderly in our population increases, so we are facing a huge medical and societal crisis unless we fund and support neurodegenerative research better.
What is your favourite part about your current role?
Interacting with my international collaborators, whom I now call friends. Having these collaborations have allowed me to visit parts of the world I would never have had the opportunity to see or experience.
What do you do with your time outside of academia?
I am a musician, playing trombone in a brass band. We are the best in Kent (honest), and with the band I have played all over the country and appeared on television. I also put in the odd shift helping my friend who owns a Micropub in my home town in Kent, pouring pints and serving whisky alongside an excellent range of non-alcoholic beverages.
What advice would you give to your 18-year-old self? 
Keep going, don't give up. It will all make sense eventually and it will be worth it. And clean your room.
Who do you look up to (inside or outside of academia)?
My mother – she brought up four kids alone after being widowed at an early age. Strength like that is an inspiration.
Any leaving remarks that you would like other members of our School to know about you?
That I do actually do research, and I am not just teaching….
QUICK-FIRE:
Favourite Movie: Shawshank Redemption
Favourite Book: Duma Key by Stephen King
Favourite TV Show: Red Dwarf
Favourite Scientist: Rosalind Franklin
In this story