24 July 2019
5 minutes with Annika Warnatsch
Dr Annika Warnatsch is a Research Fellow in the Peter Gorer Department of Immunobiology, School of Immunology & Microbial Sciences. Her research interests include reactive oxygen species, neutrophils and viral infections.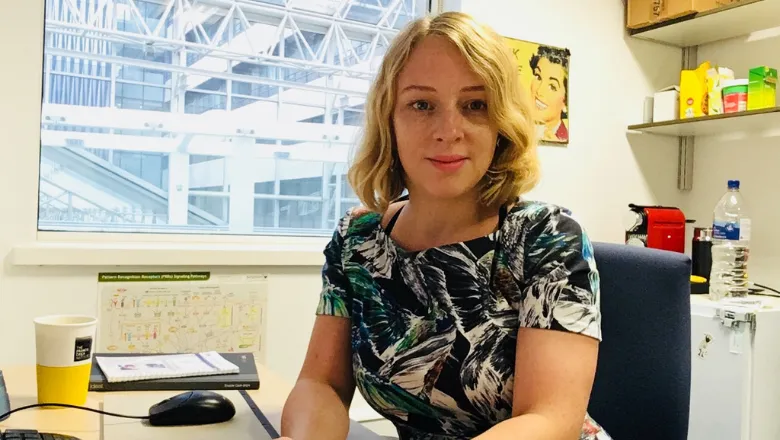 Annika Warnatsch
Briefly, tell me about your background and career up to this point at King's? 
I pursued my PhD in Biochemistry at the Charité Berlin, where I studied the regulation of proteasomes during viral infection as well as the importance of the oxidative stress response during virus infections. I developed an interest in reactive oxygen signalling during innate immune responses and joined Venizelos Papayannopoulos' lab at the Francis Crick Institute in London to work with neutrophils. These innate immune cells produce a powerful oxidative burst and play a crucial role in clearing infections. During my postdoctoral studies, I worked on two research projects investigating mechanisms of neutrophil cytokine regulation during sterile inflammation as well as in response to microbial infections.
What research are you currently working on?
Neutrophils are among the first cells to arrive at the site of infection, they are equipped with a plethora of antimicrobial weapons crucial for clearing bacterial and fungal infections. However, excessive numbers of neutrophils cause tissue damage and pathology. Acute viral lung disease caused by infection with highly pathogenic influenza viruses is characterised by strong neutrophil infiltration. But much less is known about the role of neutrophils in viral infection. I would like to understand the mechanisms that control and adjust neutrophil inflammation to the level of threat posed by an infection in the context of viral lung infection. Thereby, I will focus on the role of neutrophil-derived reactive oxygen species regulating cytokine signalling in the lung.
What is a typical day like for you?
So far, I didn't get to have typical days in my new role. The amount of office work has definitely increased, but I also still work at the bench performing experiments. Also, I get around a lot meeting new colleagues, seeking feedback, finding collaborators and learning new techniques.
Where is your research area heading in the next five years?
Understanding reactive oxygen species not only as microbicidal agents but also as critical signalling molecules which modulate the inflammatory response, will help to uncover how inflammation is controlled or misdirected in diseases. I hope that my research could enable the design of immune modulators that control exacerbated immune responses not only during virus infection but also during acute and chronic inflammatory or autoimmune diseases.
What is your favourite part of your current role?
The freedom.
What do you do with your time outside of academia?
I enjoy living in London, there are always new things, events and places to discover. I like to go out and meet friends, and for me the best thing to switch off is music. To relax I take yoga and meditation classes or I just chill in my garden.
What advice would you give to your 18-year-old self? 
Be more confident and believe in yourself.
Who do you look up to (inside or outside of academia)?
I try to be myself and do the right things.
QUICK-FIRE:
Favourite Movie: I am not really a 'my favourite' kind of person, but David Lynch and Lars von Trier are some directors I like.
Favourite Book: One of my favourite books: Milan Kundera The Unbearable Lightness of Being
Favourite TV Show: really don't have one
Favourite Scientist:  Again, there are many, but I'd like to name Katherine Johnson who is now 100 years old, she was critical in doing the maths for the first manned flights to space.