28 April 2020
5 minutes with Sharwari Verma
Sharwari Verma is a Senior Research Technician in the School of Cardiovascular Medicine & Sciences. We took 5 minutes with Sharwari to learn more about her career and life outside of work.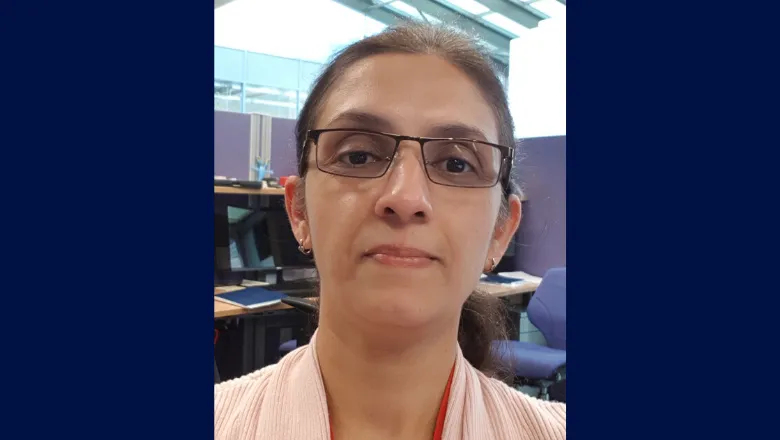 Briefly, tell me about your background and career up to this point?
I was born and raised in India. In 1996 I graduated with a degree in Life Sciences from the University of Nagpur, India. My studies inspired me to undertake a PG Diploma in Medical Laboratory Techniques and a Master's in Microbiology. I then took a role at the Bhabha Atomic Research Centre in Mumbai, which introduced me to the amazing world of cell metabolism and gamma rays. Here, I began my career in industrial, medical microbiology, learning essential microbiology and scientific skills. I moved to the UK in 2007 and started my first job in the UK at King's in 2009. This role introduced me to the study of p38-MAP kinases and the world of cardiomyocytes, an area I have worked in ever since. 
In 2014 I had a career break to expand my family and I returned to work at King's as a Senior Research Technician at the James Black Centre in February 2018. Since then I've been supporting Dr. Adam Nabeebaccus in his research into the role of GlcNAcylation in cardiac function. We are especially interested in its complex regulation in the heart and the effect on cardiac diseases that lead to heart failure. I enjoy every part of my work and I'm especially thankful to the fantastic team here for their continued support and guidance.
What is a typical day like for you?
A typical day involves lots of multi-tasking. My day is mostly spent doing cell biology experiments and preparing samples for confocal microscopy.
What would you like members of our School to most know about you?
I feel privileged to work at King's and I strive to work hard to achieve project goals. I like to help others and be a part of a great team by sharing and learning. 
What is your favourite part of your current role?
I enjoy the variety and multitasking involved with lab-based research techniques. I also enjoy helping students to learn new techniques and assisting with their development.
What do you do with your time outside of work?
Outside of the lab, I love painting and photography. On weekends, I try to catch up with my painting work. I keep learning new techniques which I use in my paintings. I love taking pictures of nature around us and reproducing these in paintings. 
What advice would you give to your 18-year-old self? 
Look beyond the constraints and think big. Work hard to achieve the goals. 
Who do you look up to?
During my career at King's, I have interacted with amazing high-quality researchers. I was always inspired by Prof. Michael Marber for his scientific work especially on the role of p38- TAB1 and furthering mechanistic insights into Ischaemia. Working in this group and interacting with talented scientists only strengthened my interests and passion to pursue cardiovascular research.
Any leaving remarks that you would like other members of our school to know about you?
It's great to be working here and I hope to learn and share more. I am always happy to help and provide advice about many lab-based techniques.
QUICK-FIRE
Your favourite movie... 3 Idiots
Your favourite book... A God's Tears by Mahika Mukherjee
Your favourite TV show... With two boys under 14 years old, I don't get much time to watch TV!
In this story