23 April 2020
5 minutes with Susan Halson-Brown
Susan Halson-Brown is a Senior Lecturer/Programme Director in the School of Life Course Sciences. We took 5 minutes with Sue to learn more about her career and life outside of work.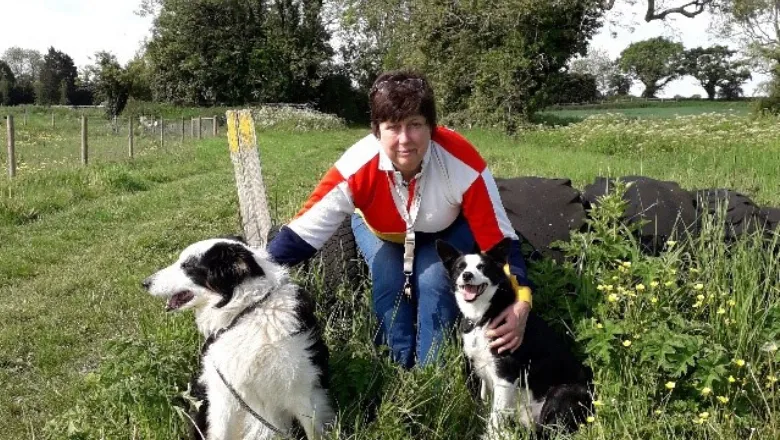 Tell us more about your area of work/role within the School...
I lead the largest CASE (Consortium for the Accreditation Sonographic Education) accredited postgraduate ultrasound programme in the UK. King's College London is one of only 18 Higher Education Institutions offering postgraduate vocational qualification in ultrasound. The programme attracts students from a wide range of medical and allied health professional backgrounds from across the UK and Europe. We admit 70-75 students each January at postgraduate certificate level with more than a 95% successful completion rate. Approximately 50% of those students will progress to postgraduate diploma in their second year with about 50% of the diplomates progressing to MSc in year 3. I am usually managing about 110–120 students at any one time.
This year we have extended our teaching to include a cohort of 12 students based at the University of Malta, who have joined us by webinar for lectures and seminars. I spend 3 days on Malta undertaking tutorials and attending meetings and we completed their clinical assessments in Malta in December. We are looking forward to further collaboration in the coming academic year.
We also run two short courses a year on ultrasound in emergency and critical care leading to Royal College of Emergency Medicine Level 1 certification and progression to a postgraduate certificate.
How is this affected by the current pandemic?
As my students are already qualified healthcare professionals gaining additional clinical skills in ultrasound, they have mostly needed to revert to their original clinical role. We have offered students two options to complete their programme of study. They can interrupt and re-enroll at a yet to be determined date in the future, or they can continue with their studies electronically supported by us and defer their clinical assessments until the clinical environment returns to a more usual pattern of working.
I am holding team meetings, tutorials, seminars and interviews for the January 2021 intake by Zoom, which is very successful. We have successfully completed the Period 2 examinations electronically. This has been a steep learning curve for the KEATS team, the academic team and students but the 'After-Action Review' will highlight some very positive areas of practice which could be used in the future.
What is your favourite part of your role?
My favourite part of the role is finding ways in which we can educate and enthuse healthcare professionals to use ultrasound safely in their clinical practice, but as the only member of the programme team qualified and experienced enough to teach any part of the programme, I am often called upon to deliver one of the three-hour teaching sessions at very short notice. I get enormous satisfaction in taking a complex concept and dissecting it into manageable 'chunks' so that students understand and the 'icing on the cake' is that 'light bulb moment' when a student, who may have been struggling, understands and is enthused by the power of ultrasound as a diagnostic tool.
What is a typical day like for you?
My typical day starts at about 04:30 being awoken by two collies. It takes me about an hour to feed our ginger tomcat and to make myself look presentable. A quick cup of tea for my husband, so that he gets out of bed to get me to the train station for 06:00. On a 'London' day my husband will do morning stables, so that I don't arrive at work with straw in my hair (which has been known).
The journey is about 2 hours (on a good day for Southern Rail) and I can usually work on the train, as I get on at the terminus and can get a seat. It then takes me about 30 mins to clear the station and walk down Victoria Street to the St Thomas' Campus (bus on wet and windy days or when carrying a work bag of papers and a laptop, grabbing a coffee and pastry on the way).
I arrive at my desk in St Thomas' House by about 08:45 (again, on a good day). Most of our teaching is now on the Guy's Campus due to the size of the student cohort. On student-facing days I get the single London Bridge train each day which arrives at about 08:55. We teach in three-hour sessions with a 09:30 start finishing at 12:30 and then resuming at 13:30 until 16:30. Teaching is block release but as we have a no-overlap model of teaching year groups teaching is about 2 weeks per month.
All 120 students require a clinical observational visit each academic year to their workplace and these are fitted in around teaching and programme administration. If the student happens to be in Sweden or Ireland, this can take up to two days.
I usually arrive back in West Sussex between 19:00 and 19:30, if not visiting students, having returned to the email on the train. It is then straight to the stables. Evening meal is about 20:00 – 20:30 which, during the week, needs to be simple. I do not usually manage to stay awake to see the 22:00 news bulletin but if there are reports to be done or marking to be done, I quite often work into the early hours.
How has this changed recently?
I do not need to get up until 07:00 (someone needs to tell the two collies) and we go straight to morning stables. My husband walks the dogs while I sort out our two thoroughbred former racehorses, their stables and their home paddock.
I cook breakfast and then go straight to the emails (never less than 50 and often up to 100 when students are worrying about assessments). The administrative load is high. I have also been home schooling my two grandchildren for part of the 'lock-down' as their parents are key workers. I take a short lunch break to shower and eat and then work through to 17:00 when I break to hear the Government briefing.
Next, evening stables and dog-walking then cooking dinner (hopefully better than the 'London days'). I usually return to the computer after dinner, unless completely exhausted, and I am not falling asleep before the 22:00 news bulletin, which is a bonus.
How are you adjusting to working from home so far?
We are all adjusting quite well. We have a fairly fixed routine anyway due to the animals. The thing I crave most are my full-size monitors, as working on a small laptop is quite tiring on the eyes. IT connectivity has also been a little 'patchy', but the IT team have now found a solution.
What do you think people in the School would find most surprising about you?
I don't think that very many people within the School know me at all, so difficult….
I have danced with several Manchester United footballers (of a certain generation) and shared strawberries in January (not difficult now, but quite decadent then).
I have danced (played dodgems around the dance floor) with the late Sir Les Dawson and his wife.
I have had a varied international career working both clinically and within industry to develop ultrasound techniques for the diagnosis of fetal hypoxia. I was based in the USA for over a year and in Germany for several months.
I was part of a team awarded a Design Award for technology using computer algorithms to interpret fetal CTG.
I have been a District Commissioner for the Girl Guides and an Assistant District Commissioner for the Scouts.
I have scanned a killer whale.
I para-glided (even while pregnant).
Anything else you would like to add?
I hope that by reading this, colleagues may be more aware of the contribution the School is making to ultrasound education in the UK. The entire programme is run by only 2 WTE academic staff and a lot of goodwill from clinical experts in their field. There is tremendous scope to embed ultrasound teaching across the School.
QUICK-FIRE
Your favourite season... Autumn
Your favourite meal... A Mediterranean fish platter with a very cold crisp sauterne
Your favourite movie... Gone with the Wind
Your favourite book... The Catcher in the Rye by J D Salinger
In this story