26 November 2020
A life remembered – The Alexandros Petersen Scholarship
Dr Alexandros Petersen (War Studies, 2006) was a talented young academic and writer who made a lasting contribution to the field of Eurasian geopolitics.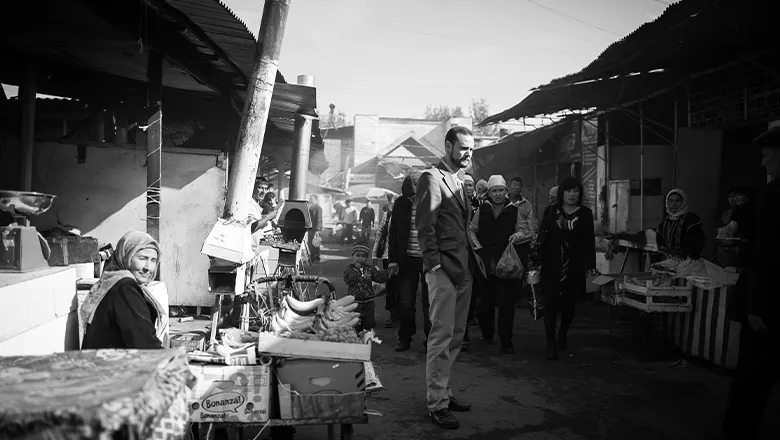 Dr Alexandros Petersen (War Studies, 2006) was a talented young academic and writer who made a lasting contribution to the field of Eurasian geopolitics. In 2014 his life was tragically cut short when he was killed in a Taliban attack in Kabul, Afghanistan. His legacy and the story of his life and work continue thanks to a scholarship set up in his memory.
Alex was an outstanding and gifted student. His energy and passion made a lasting impression on his teachers and contemporaries at King's. When he graduated with a first-class degree in War Studies, it was clear that he would go on to achieve much success. Alex quickly became a rising star in international affairs. At 22 he founded the London branch of Young Professionals in Foreign Policy, a global network of emerging leaders, passionate about tackling issues in foreign policy and national security. After King's, Alex gained a master's and a PhD from the London School of Economics. He was a brilliant scholar of the geopolitics of Central Asia and the Caucasus. As a researcher and advisor he offered expert insight into the region's energy security, and was affiliated with a number of foundations and institutes, including the International Institute for Strategic Studies and most recently the Woodrow Wilson International Center for Scholars in Washington, DC.
Alex's work shows he was a visionary thinker with wisdom beyond his years. He had scarcely completed his master's when, aged 26, he embarked on writing his first book The World Island: Eurasian Geopolitics and the Fate of the West. His latest project, which he had nearly finished writing at the time of his death, was on China's role in Central Asia. In a few short years he wrote three books and published well over 100 articles.
Alex's aspirations extended far beyond academia. His insight was informed by a natural curiosity, compassion and a love for Central Asia, Afghanistan, the Caucasus and China. He valued engaging with the world and had travelled and explored every country in the region. In 2014 Alex went to Kabul to teach History, Politics and International Relations at the American University of Afghanistan. On 17 January 2014, Alex was killed in a shooting and bombing attack on a café in Kabul. He was 29.
Alex's life and work is remembered through a scholarship programme in the Department of War Studies, made possible by a generous gift from the Petersen-Psalida family and other donors. The scholarship funds a one-year master's degree in Conflict, Security & Development and is open to students who are resident in Afghanistan, Central Asia and the South Caucasus. As the family explains, 'The aim of the scholarship is firstly to open up to the best and brightest students access to a world-class university education, regardless of means, and secondly to create a cohort of future leaders from this important region, to develop their skills so that they may return to their communities able to far better serve and lead. Our hope is that this scholarship programme will not only perpetuate Alexandros's academic and personal memory, but also encourage other young people, through his example, to continue the work that he was unable to finish.'
To find out more about the scholarship and how to donate to the fund, click here.