29 March 2017
A new method for analysis of bloodstains
Interdisciplinary teams at King's have been working on research to provide new methods of analysis for blood stains at forensic crime scenes. New techniques could help forensic experts to more accurately predict the age of victims and suspects as well as how long it has been since a blood stain was deposited.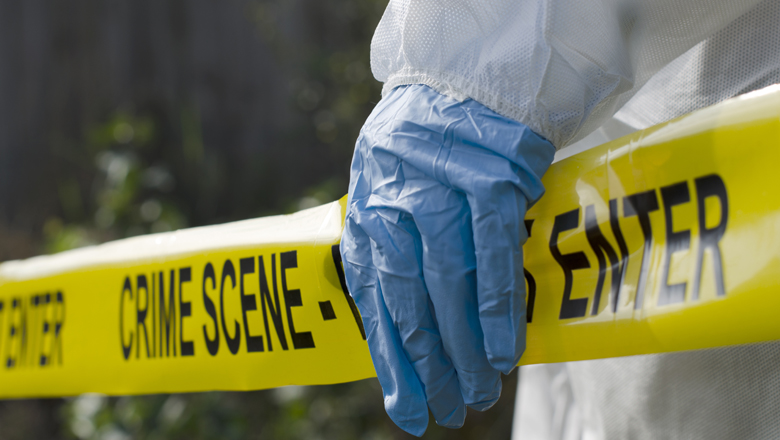 Police tape at a crime scene
Bodily fluids are among the most important biological evidence recovered from crime scenes, but predicting the age of a sample donor is challenging.
Scientists from the Department of Physics are working on a technique which uses ultraviolet light of a certain wavelength to determine the time from the creation of a bloodstain. It does this by looking at the florescence present in the blood, which fades over time. This allows more accurate estimations of the age of a bloodstain from hours to those that have been there for more than a week.
Uncertainty of the age of blood deposits has led to the rejection of forensically valuable evidence in the past. The new method could help police gather more accurate evidence such as information about the time a crime occurred or to discount irrelevant blood at crime scenes.
Professor Klaus Suhling from the Department of Physics, said: 'Even small bloodstains can be dated and used by police to determine when the crime was committed. Blood fluoresces naturally under ultra-violet light, and so this technique could be highly accurate and the next stage now is to move to further trials in the field.'
Researchers from King's Forensics have also been able to accurately predict the age of sample donors to within four years (on average) with a technique that uses a form of artificial intelligence or 'machine learning' to analyse a specific set of 16 key biomarkers.
They also found their model has the potential to perform well in diseased samples of blood and saliva. With more data, the model could be retrained to apply to other tissues, such as sperm or urine.
One of the researchers, Dr David Ballard, said: 'This is the first study to test next generation sequencing and machine learning technologies together to estimate age from blood and saliva samples. These findings could provide a basis for combined analysis techniques that would be of substantial value in forensic investigations in the future.'
In this story