03 April 2023
A plaque to commemorate the Royal Dental Hospital of London
King's staff help in the organisation of a historic green plaque on the site of the Royal Dental Hospital, the oldest dental school in the UK.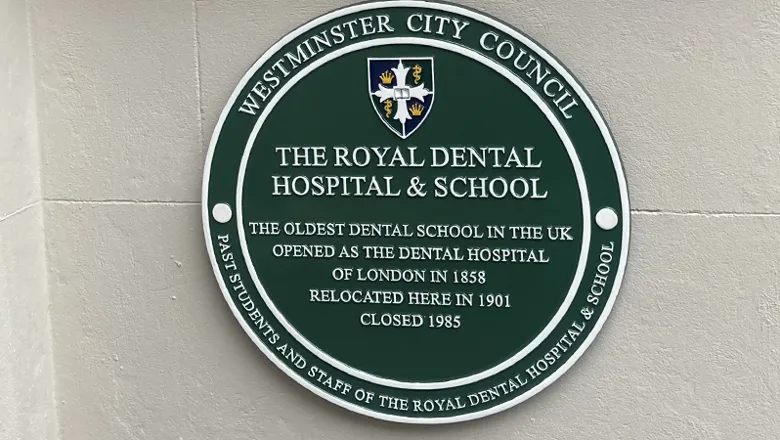 As one of the key parent institutions to the Faculty of Dentistry, Oral & Craniofacial Sciences at King's College London, the Royal Dental Hospital (then known as the London School of Dental Surgery) is firmly part of our history.
Founded in 1858 to help the poor access dental care, the Royal Dental Hospital saw countless notable students trained over the years. The school prepared students for the examinations originally established by the Royal College of Surgeons, and the first cohort graduated with a dental qualification in 1860, the first of its kind in the UK.
After a long history of dental education, the Royal merged with the United Medical & Dental Schools of Guy's & St Thomas' in June 1983, finally closing its doors in 1985. As the oldest dental school in the UK, a small group of alumni decided that there should be a mark of its presence, in the form of a historic Green Plaque.
Led by Professor Stanley Gelbier and Dr Brian Williams, the group approached Westminster City Council to see if the building, now occupied by the Raddison Blu Edwardian Hotel, might be considered for one of its Green Plaques. With financial support from the Alumni community and King's, the money was raised to cover the costs of establishing the plaque.
On 31 March over 70 people, including FoDOCS Executive Dean Professor Michael Escudier, gathered at the site to see the plaque unveiled by Professor Stanley Gelbier:
"The Royal Dental Hospital is most deserving of this accolade. After the presentation we all gathered in the hotel bar and proposed a toast to the Royal."
"The celebration cake, with the coat of arms of the Royal emblazoned in icing on the top, was cut by Peter Frost with everyone receiving a slice," he said.

Over 70 people gather to see the unveiling of the plaque.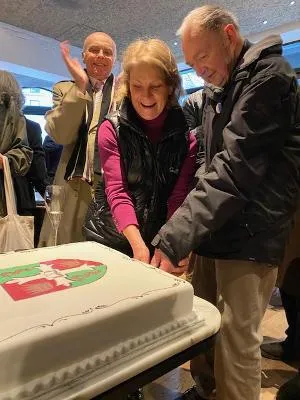 The cake is cut by Peter Frost and Estelle Los (née. van de Watt).