12 February 2015
A visit from Gordon Crosse
The distinguished composer Gordon Crosse paid a visit to the Department of Music on 6 February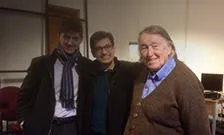 PGR composers Igor Maia and Manos Charalabopoulos meet Gordon Crosse
On Friday 6 February the distinguished composer Gordon Crosse paid a visit to the Department of Music. Dr Rob Keeley, who arranged the event, explains:  
"I invited the composer Gordon Crosse (b 1937, so now a very youthful 77) to make one his rare visits to London from darkest Suffolk on the same day that I gave the first performance of his recent cycle of piano miniatures, 'Ron's Toyes', tiny evocations of the wooden automata made by his Suffolk neighbour Ron Fuller. 
In the event, there was an excellent turnout to listen to Gordon recounting his fascinating career, from studies with Petrassi in 1962, to working with Ted Hughes and Peter Pears, to the fallow (but far from unhappy) period from ca 1990-2006 when he stopped composing to become a computer programmer. Thankfully, he is now composing energetically again, as 'Ron's Toyes' so aptly demonstrated.
Gordon was generous with his time and anecdotes, and his music, once such an important feature of British musical life, now I hope has some new and youthful admirers."