18 December 2017
Agreement signed with emerging Chinese university
King's signs agreement with emerging university in Shenzen, China.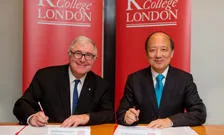 Sus Tech
King's College London has signed an agreement with emerging Chinese research institution, Southern University of Science & Technology (SUSTech).
The two have signed a memorandum of understanding to develop cooperation in medical education and research to help tackle some of the largest shared challenges facing the two nations.
The project in the vibrant city of Shenzen was announced at the same time as a new China-UK joint science and technology strategy and the partnership has been warmly welcomed and supported by Healthcare UK who attended the MOU signing at King's. Healthcare UK is a joint initiative of the Department of Health, NHS England and the Department for International Trade.
Shenzhen in Guangdong province, adjacent to Hong Kong, is regarded as a strategically and economically important and city.
Strong reputation
SUSTech has a strong reputation as an emerging research-intensive institution and is predicted to be one of China's leading universities within the next few years.
SUSTech President Chen Shiyi formally invited King's President and Principal Ed Byrne to serve as a member of SusTech's International Advisory Committee.
During the visit, the delegation also visited the Francis Crick Institute, King's Experimental cancer Medicine Center, the Dental Institute and biomedical research centre.
Deputy Vice President (Global Business Development) at King's Tayyeb Shah said: 'We are very excited about this partnership which is the result of months of very positive meetings and discussions. SUSTech is an ambitious and forward-thinking institution based in a city of great innovation – so this collaboration with King's has the potential to yield truly great things.
'It is increasingly recognized that the major challenges facing society will only be solved when the best minds work together through global research collaboration and we hope this partnership has very fruitful years ahead.'
For further information please contact the press office at King's College London on 0207 848 3202 or pr@kcl.ac.uk
For more information about King's please visit the King's in brief web pages.
World-changing ideas. Life-changing impact: https://spotlight.kcl.ac.uk/