21 August 2020
Takeover @kingsartshums Instagram and win a £50 gift voucher!
You have a story, and we want to share it! Take the lead and show us how you are adapting to life as a student by entering our Arts & Humanities Instagram takeover.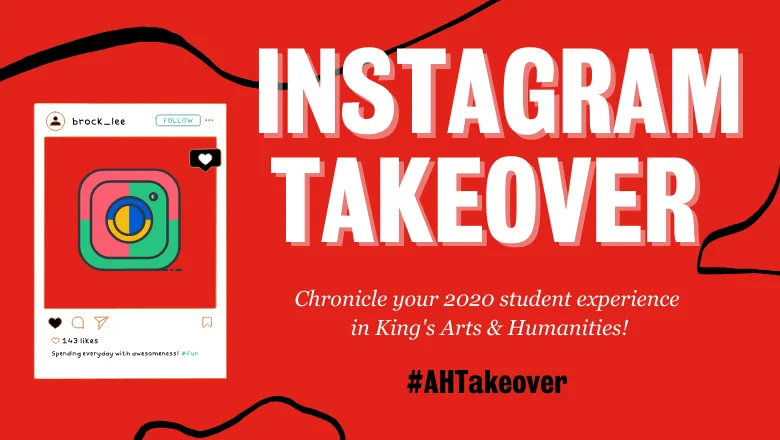 Students everywhere are now getting ready to start the new academic year with a  combination of on-campus teaching and learning with online delivery, and we want to showcase just that!
Here's what you have to do:
We are challenging YOU to take part and control the reigns of the @kingsartshums Instagram channel, chronicling your student journey, posting photos of the King's College London campus, to social activities, cyber-quizzes and events.
Instagram is one of our fastest-growing social media platforms – and many student influencers have come before you!
Open to all students in Arts & Humanities; we will select one first-year, second-year and final-year student to takeover our channels for up to one week in September/October 2020.
How to enter:
Enter now by emailing ahcomms@kcl.ac.uk telling us who you are and why you should be in charge of our Instagram, along with links to public platforms or anything exciting which makes you creatively stand out!
Enter now if…
You are a friendly and enthusiastic person with a genuine interest in social media
Have impeccable organisation skills with the ability to keep content flowing
Know how to influence and increase following and engagement
You are creative!
Can capture a moment using photography or video recording
You are confident communicating with a wide range of audiences
Ability to act as an ambassador for the Faculty of Arts & Humanities
The deadline is Wednesday 9 September 2020. If chosen, you will get the chance to work closely with the Faculty communications team, gain employability skills and will, of course, WIN a £50 gift voucher of your choice!
Take part in our #AHTakeover!