28 September 2018
Alumna, Aeman Junaid reflects on King's Business School Consultancy Project
In 2018-19, the King's Business School Consultancy Project will once again be collaborating with Westminster City Council after a successful pilot year where students were able to apply their classroom-based learning by working with real businesses in practical settings.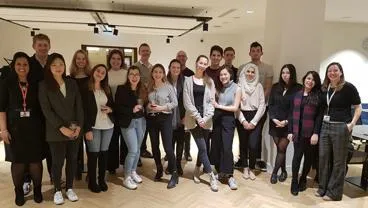 Westminster City Council Event
Westminster City Council has a large database of local businesses to which it puts out a call offering free consultancy from a group of King's Business School students. Expressions of interest are received by Westminster City Council and passed to King's Business School for consideration.
This is a key opportunity open to all final year students studying BSc Business Management and Economics & Management.
BSc and Business Management alumna Aeman Junaid shares her experience as a participant in last year's Westminster City Council programme.
Throughout my three years at King's I was constantly seeking out opportunities that allowed for hands on experiences with real companies in the business world. I wanted a holistic experience that enabled me to bridge the gap between real world business and theory-based modules, in which I could apply what I had learned.
Experience is an important development to have in business and is often built through internships during studying. I found the Westminster City Council program a completely different experience to an internship. We were interacting with real clients and taking ownership over our roles. We organised our own meetings to present our ideas. This allowed us to develop a personal and professional relationship with the client. It was great working for a real company with inspiring entrepreneurs who gave us helpful insights.
The Westminster City Council consulting project provided a unique opportunity to work with real world, small-scale companies and provide consulting services. Working in a team of four, we worked alongside a gaming company. While this company was well established in the TV gaming industry, it was relatively new to mobile gaming. In our four-week project we analysed the company's marketing data and provided meaningful, cost effective and efficient ideas to improve their reach and streamline their mobile game application's marketing approach.
Insight only becomes prevalent when you can understand the distinctions and business model inside out. I discovered some of the smaller things are often what have a really large impact on a company, and this gave me a stronger understanding of a lot of the work we do in our modules. I also really enjoyed getting to know the people from my group. We were able to become good friends that shared ideas around our different areas of interest.
This program benefited me and my studies here at King's College Business School, I may not have been as aware of the impact it had on me at the time but come exams, I had useful and resourceful skills from the Westminster City Council program. I had used the theories I was studying for in real life which gave me an insight beyond the books, I really understood the utility of the base model that we learnt in the classroom.
If I could do the Westminster City Council project more than once, or during my entire degree, then I gladly would have. I am soon starting my full-time job and am grateful for this initiative, I would encourage anyone who is interested in getting involved to avail this amazing opportunity.
My advice to future candidates can be summed up in three simple steps:
Just apply – It's only a few extra hours a week and you will learn a lot. Trust me.
Once you have a team and a client, be confident. You are all on the same side, try to build a positive relationship for all of you.
Though this experience is an incredible opportunity for you and your CV, don't forget to enjoy it. You have so much independence over this project, make the most of it.
Go for it and good luck.
If you are interested in participating in this year's intake as a final year student studying BSc Business Management and Economics & Management, information and instructions for application can be found on your KEATS homepage under the course 'King's Business School Consultancy Project.'