07 June 2019
It is our alumni who define us
The King's Distinguished Alumni Awards celebrate outstanding professional achievement and civic leadership or service.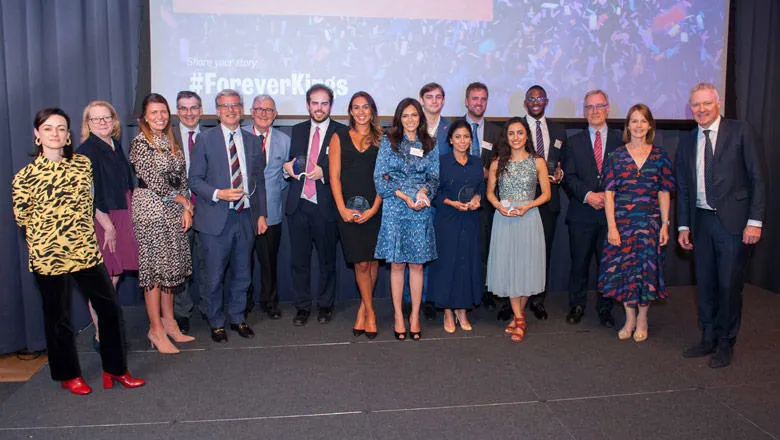 King's Distinguished Alumni Award winners and guests. Photo by Nathan Clarke.
An intimate crowd gathered at the Great Hall to recognise some of our best and brightest alumni and a future alumnus.
The King's Distinguished Alumni Awards honour those who demonstrate outstanding professional achievement and civic leadership or service to King's and society.
More than 80 guests made up of fellow alumni, family, friends and faculty celebrated the achievements of twelve very special alumni. Rory Bremner (French and German, 1984) served as master of ceremonies delighted the crowd with his humour, and exclaimed that coming back to King's felt 'like coming home.'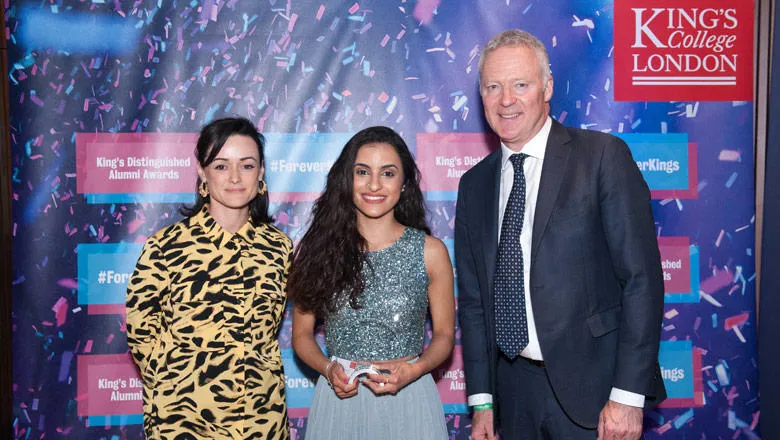 (l to r) Sabrina Mahfouz, Shereen Mashhadi Ahvazi and Rory Bremner. Photo by Nathan Clarke.
Professor Sir Robert Lechler FKC, Vice-Principal (Health) highlighted our achievements, saying 'King's has a lot to boast about,' from our commitment to service and widening participation to our commitment to the environment.
The awards were presented by past winners and faculty members who drew attention to the 'resilience', 'compassion', 'leadership' and 'quality of character' of each honouree.
The importance of the King's Hardship Fund was evident when 2018 King's Arts and Culture Alumni Award winner Sabrina Mahfouz (Classical Studies with English, 2005) proudly recognised another Hardship Fund recipient, Shereen Mashhadi Ahvazi (Midwifery, 2018), for the King's Transformation Award.
Helen Hudson Award winner Daniel Peltz OBE FKC (History, 1982) shared memories of his first day on campus commenting on the 'character of the campus' and noting that King's 'is on the brink of something special.'
Daniel Peltz OBE FKC MA. Photo by Nathan Clarke.
The evening ended with King's Principal & President, Professor Ed Byrne AC introducing our Alumna of the Year Award to Farrah Storr (French with English, 2001) who remarked on the value of her education at King's and the opportunity it gave her to begin her career in journalism.
King's is proud of our alumni community and the great work being done around the world. Join us in congratulating this year's winners. Find out more about our honourees and their outstanding achievements by visiting the King's Alumni Community website.
Who will win in 2020? Honourees are chosen by their peers from the alumni community. Nominations for next year's group of winners will open in autumn.