14 December 2022
Ambassador shares Brexit insights at anniversary event
Brexit, the Northern Ireland protocol and the future of UK-EU relations were on the agenda at an event hosted at King's College London.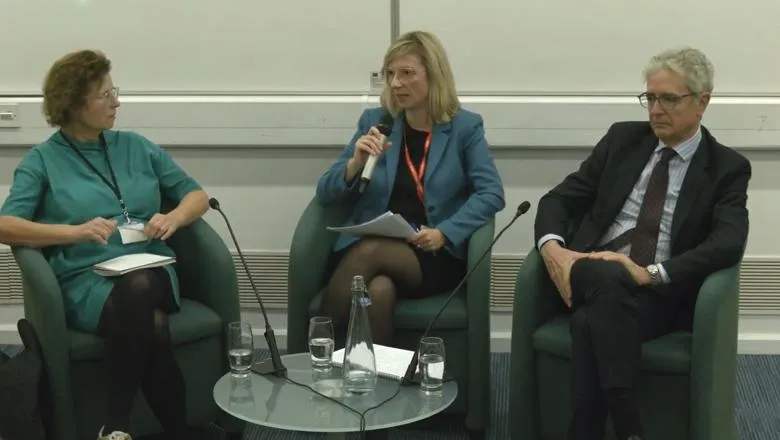 Lisa O'Carroll, Professor Sofia Vasilopoulou and José Pascual Marco Martínez
Spain-UK Special Relations: The EU and Beyond saw José Pascual Marco Martínez, the Spanish Ambassador to the UK, join Guardian journalist Lisa O'Carroll for a wide-ranging discussion on the past, present and future for international relations in the post-Brexit era.
The discussion covered a range of topics, including the Brexit withdrawal negotiations, the future of the United Kingdom, the way forward for the Northern Ireland protocol, Gibraltar, the new European Political Community, and climate change.
The event took place on 29 November at King's and forms part of the Department of European and International Studies' 30th anniversary celebrations. It was hosted by Professor Sofia Vasilopoulou, from King's College London.
Mr Martínez was the chief negotiator working on the Brexit withdrawal agreement on behalf of Spain, representing Spanish interests to EU negotiators in Brussels, and he also worked on the Northern Ireland Protocol.
Ms O'Carroll is currently Brexit correspondent at the Guardian and has covered the issue since 2016 but also covers Northern Ireland and Ireland.
You can watch the event again, in full, on the School of Politics and Economics YouTube channel.
In this story