11 August 2021
AMID MSc Patricia Santos Memorial Scholarship
Congratulations to MSc student Emma Gray, the recipient of the 2021 Patricia Santos Memorial Scholarship.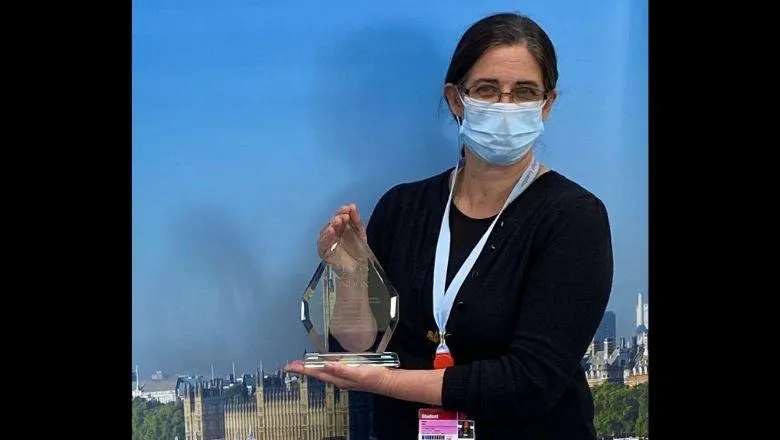 Ms Gray is completing her MSc Advanced Minimum Intervention Dentistry Distance Learning programme and a small ceremony was held on July 29 to present the award.
The award was provided by funds from industry sponsors - GC UK, Oral B and Denplan. These funds have been used to award a scholarship to a student on completion of year 2 of the programme who has consistently achieved merit or distinction grades in all submitted assignments.
Deputy programme manager for the AMID MSc, Dr Michael Thomas, Senior Teaching Fellow said: "Emma consistently has achieved a high grading for all her submitted assignments throughout the programme and in her demeanour has shown herself to be a committed and engaged student."
The award is in memory of Patricia Santos. Patricia enrolled as a student on the three-year MSc Programme in Advanced Minimum Intervention Dentistry, commencing her studies in January 2014 as part of the first cohort of the programme. She was working as an associate in a general dental practice in Cambridge. She had moved from her hometown, Porto, to the UK to further her career as a dentist and had worked in Ivybridge, Devon prior to moving to Cambridge.
From day one of the course, she was a most impressive student. She was dedicated in her studies, completing the course requirements to a very high standard. She has also made a full and active contribution to discussion fora based on the taught modules. She had also attended additional sessions at Guy's to further advance her clinical skills.
Tragically, Patricia died suddenly and unexpectedly at her home in Cambridge on 24th April 2015, aged 31. Her contribution to the course has been valued and it was an honour when her parents, Sao and Alexandra and her siblings Joanna and Alexander, agreed that the AMID scholarship award be named in her memory.