02 September 2021
Announcement of new Vice-Dean & Chaplain to the St Thomas' & Waterloo campuses
The Revd Sarah Farrow will be taking up the post from 1 October 2021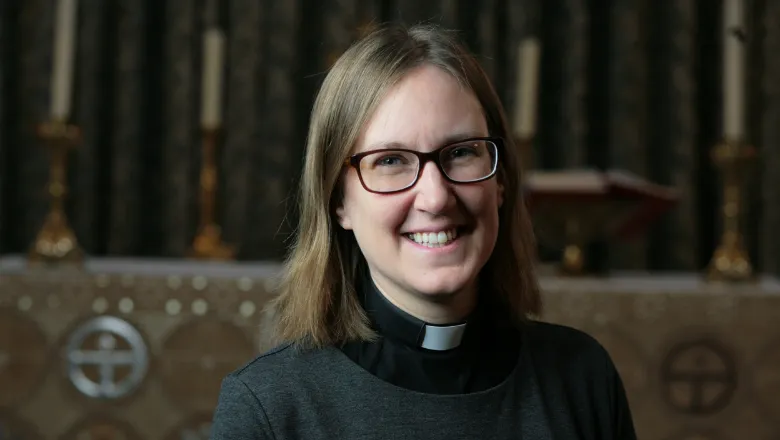 The Dean's Office is delighted to announce that the Revd Sarah Farrow will be taking up the post of Chaplain to the St Thomas' & Waterloo campuses and Vice-Dean from 1 October 2021. Sarah follows the Revd Dr Keith Riglin, who moved to Scotland earlier in the year to become Bishop of Argyll & The Isles.
Sarah has been part of the Chaplaincy team on a part-time voluntary basis as Lutheran Chaplain since October 2019, she already has some knowledge of King's. Sarah commented, 'I am honoured to become a more involved member of the wonderful Chaplaincy team at King's. The Dean's Office and the AKC offers a voice to the intersectionality of our spiritual and academic journeys, and I am looking forward to being involved with this important work.'
Sarah is originally from New York and New Jersey, but has lived in London for almost 20 years. She is a Lutheran minister, ordained in the Lutheran Church in Great Britain after training with the South East Institute for Theological Education. She has been very active in higher education chaplaincy work both in London and across the UK. Most recently, Sarah was the College Chaplain at Mansfield College, Oxford University, and the Chaplain for the International Lutheran Student Centre in London, alongside her previous role at King's. Prior to ordination, Sarah worked for over 12 years with the Boston University Study Abroad London Programs managing their academic programmes and advising students.
The Dean of King's, the Revd Dr Ellen Clark-King, said, 'We are delighted that Sarah will be joining us in this new role. She was appointed from a very strong field and will bring great experience, commitment, imagination and empathy to her role as Vice-Dean and Chaplain.'
Sarah has a BA in Political Science from Boston University, an MSc in Theory and History of International Relations from the London School of Economics, and an MA in Theology with St Augustine's College of Theology. To continue her studies, Sarah is now excited about the prospect of taking the AKC as a staff member, so you may come across her in lectures.
Sarah and her family live in Croydon where they all enjoy walking, music, books, books, and more books.
There will be an opportunity to meet Sarah and other members of the Chaplaincy team at the Opening of Year Service in the Strand Chapel on Wednesday 29 September, at 13.10. There will also be a separate official service of licensing and welcome for Sarah in due course.