08 March 2019
#BalanceforBetter: Supporting women with diabetes
Developing early interventions to help women with type 2 diabetes.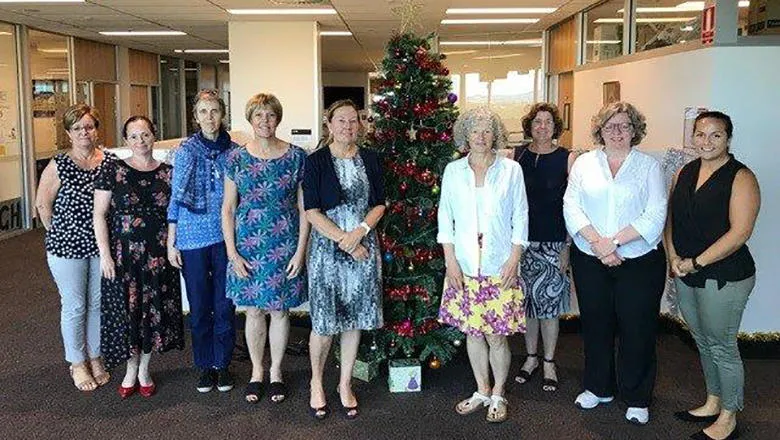 Jackie Sturt (fourth from left) and research colleagues by a Christmas tree.
Jackie Sturt, Professor of Behavioural Medicine in Nursing in the Faculty, has developed the Women's Wellness with Type 2 Diabetes Program, which is currently being used across the UK and Australia, with the School of Nursing and Midwifery and Menzies Institute of Health Queensland, Griffith University, Gold Coast, Australia.
Professor Debbie Anderson, Professor Frances Griffiths, Professor Jackie Sturt, Professor Jane Speight, Dr Christel Hendrieckx and members of the Womens' Wellness Research team. 
Type 2 diabetes is a rising challenge socially, economically and across health industries in both Australia and the United Kingdom. Women diagnosed in midlife face multiple challenges that impact their mental and physical wellbeing. These include possible social, psychological, biological and physiological changes and it can be a time of life when they have increased stresses in life including family, work and financial. These challenges and lifestyle behaviours can potentially increase a person's vulnerability to the effects of type 2 diabetes.
However, lifestyle modification programs aimed at early intervention can help women make positive changes in their life and reduce the complications in established type 2 diabetes.
The Women's Wellness with Type 2 Diabetes Program addresses nutrition, exercise and distress specific to diabetes, along with the issues pertinent to midlife women that include that include sleep, stress, sexuality, and menopause management. It is delivered through a hard copy or iBook where participants work through the structured program week by week. The participants also receive virtual health consultations and email/phone support from an experienced women's health or diabetes nurse trained in delivery of the intervention.
A feasibility trial has been conducted in the UK and Australia, and qualitative data revealed that participants in both locations found the program was clear and structured, noting that their health and perspective regarding diabetes had been positively changing. It is hoped a full trial will follow.