12 March 2020
Big ideas are unveiled at policy pitch competition
Climate and the environment were in focus for a policy pitch competition held across the School of Politics and Economics.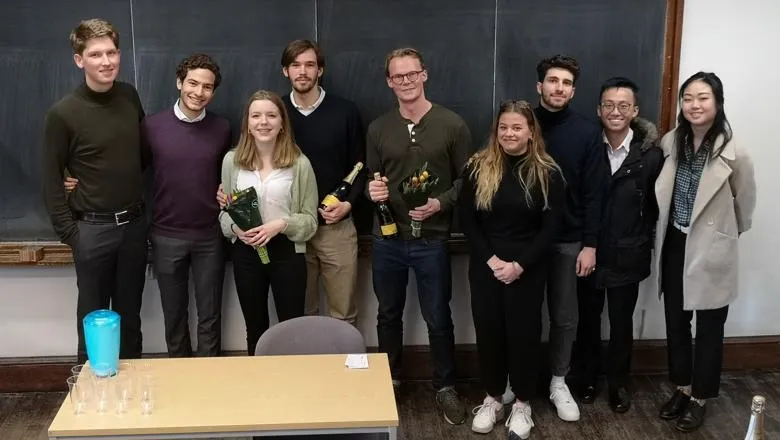 The students who took part in the policy pitch competition
Five teams of students were invited to present their policies to a panel of judges on Wednesday (11 March), with the winner and runner-up both receiving a cash prize.
The winning pitch came from a three-strong team of first year politics, philosophy and economics students – Marcia Holst, Jasper Doeninghaus and Leonardo Vizioli – whose policy championed the introduction of a carbon score for consumer goods.
The runner-up was Hauk Hofseth, a second year politics, philosophy, and economics student, who proposed modernising the energy system through use of 'smart grid' technology.
The judging panel featured Dr Karlygash Kuralbayeva, a lecturer in economics from King's College London; Rebecca Byrnes, a policy analyst from the London School of Economics and Political Science; and Tim Byne, a student experience manager at King's College London.
The judges marked the pitches on the feasibility of the proposals, the depth of research, the style of the presentation, and response to questions.
The pitches
Nationwide Implementation of a Carbon Score
Marcia Holst, Jasper Doeninghaus, and Leonardo Vizioli (PPE)
The winning trio argued for the introduction of a carbon scoring system for goods that would be calculated according to the carbon footprint of the item – measured using a range of factors, such as raw materials used and method of transport.
The carbon score set against the price of the item would then produce a carbon-pound ratio that would be displayed in stores, alongside a 'green star' rating.
The trio argued that the information would help consumers make more informed choices about their goods, thereby encouraging retailers to use more environmentally-friendly methods to improve their ratings. The ultimate aim was to help the UK achieve a net-zero carbon rating by 2050.
Sovereign Green Bonds
Nader Di Michele and Josephine Munch (Politics)
Nader and Josephine called for the government to leverage much greater private investment in the low carbon market by creating a green bond market.
The pair argued that there exists significant interest from pension funds, insurance groups and endowments across the globe in sustainable investments and said the issuance of sovereign green bonds by the government would help support low-carbon schemes and aid the UK in its bid to achieve a net-zero carbon rating by 2050.
Green bonds are ordinary fixed income assets that are issued to fund projects that have a positive impact on the environment. They are used by companies to fund projects including cleaner public transport and low-carbon buildings.
Emissions Trading for Private Persons
Philip Horster (European Politics)
In an effort to decentralise energy production, help the UK towards carbon neutrality, and make energy markets more inclusive, Philip called for a UK emissions trading scheme that could easily be accessed by citizens.
At present, private persons do not have access to emissions trading schemes so only companies are allowed to apply for a permit to sell their unused emissions allowances.
After Brexit, Philip called for the government to allow those who own photovoltaic (PV) panels to be able to access any new UK emissions trading scheme, and profit from such a system. In doing so, Philip argued, people would be incentivised to invest in PV panels for their homes, which would lead to reduced reliance on fossil fuels and job growth in the green energy market too.
Sustainable Production of Biodiesel Through the Collection of Used Cooking Oils
Keefe Ng and Linda Zeng (PPE)
Keefe and Linda said emissions from vehicles could be dramatically reduced through the widespread adoption and use of biofuel, made from used cooking oils (UCO).
The pair argued that, at present, a lack of finance to deal with widespread collection of UCO from restaurants and scant information about how to properly deal with UCO meant the potential was not being realised.
They argued that an 'opt-out' scheme for retailers and an obligation to declare use of cooking oils at quarterly intervals would help stimulate the market. Government intervention would encourage new collection firms to enter the market and increase competition, and a system of renumeration for retailers would further help improve uptake.
UK-EU Smart Grid
Hauk Hofseth (PPE)
Leveraging advancements in data-gathering and artificial intelligence, and creating an EU-UK energy partnership were at the core of Hauk's policy proposal.
He said that 'smart grid' technology could be used to analyse and monitor energy usage across nations to better predict when and where energy would be most needed, with capacity directed to meet demand in a much more efficient way.
Using machine learning, household energy use could be reduced by data gathered across the continent on weather and behavioural patterns, encouraging certain appliances to run at times when there is surplus capacity in the network.
In order to achieve the best results, Hauk proposed a pan-European network, utilising the benefits of resources across the continent.
In this story