08 February 2019
Blocking cell signalling offers new way to treat skin cancer
New research reveals how melanoma cells manipulate the immune system and offers hope of a new cancer treatment.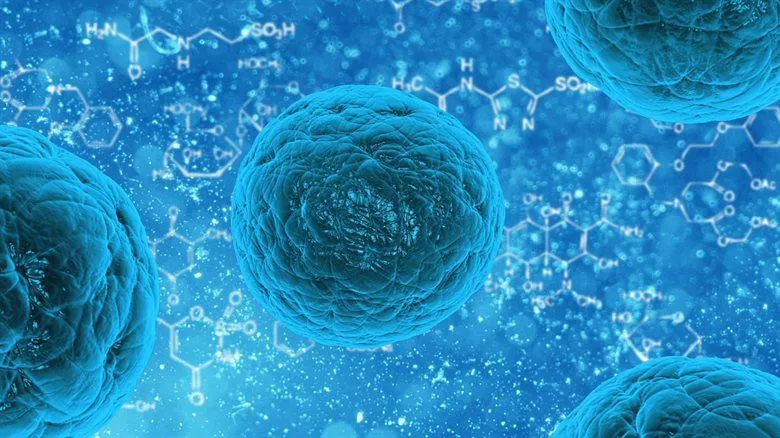 cells
New research published in Cell and co-authored by Dr Mirella Georgouli, formerly of King's Randall Centre for Cell & Molecular Biophysics, has revealed that aggressive melanoma cells are able to manipulate the immune system to their advantage. As a result, those cells that should recognise and destroy cancer cells instead support the growth and spread of tumours.
Melanoma is a dangerous form of skin cancer. There are around 15,400 new cases in the UK every year and about 2,400 people die of the disease. The ability of cancer to spread from one part of the body to another, known as metastasis, is responsible for over 90% of cancer-related deaths.
Cancer cells that spread tend to form an 'invasive front' around the edge of a tumour, where they interact with healthy cells. By examining primary melanoma samples from patients, the authors observed that the cancer cells of the invasive front were surrounded by immune cells called macrophages (a type of white blood cell).
Under normal circumstances, macrophages help to eliminate cancer cells and fight infectious agents. However further experiments in cells and pre-clinical models revealed that the aggressive melanoma cells release specific signals that attract immune cells to the tumour and convert them to macrophages that support tumour growth.
They found that the release of these 'immunomodulatory' signals from the cancer cells is controlled by a protein called Myosin II which remodels the cell cytoskeleton (a structure that helps cells to maintain their shape); an essential process for cell migration.
Drugs already exist that target the Myosin II pathway and the cytoskeleton, which are used to treat conditions such as glaucoma and cerebral vasospasm. By re-purposing these drugs in experimental models the team, which also included researchers from Barts Cancer Institute, the Francis Crick Institute and the University of Lleida, were able to block the release of the signals that reprogram the immune cells, preventing cancer progression.
Dr Georgouli said:
'Our work provides novel findings on how cancer cell cytoskeleton can have cell-extrinsic effects on the surrounding tumour microenvironment. Such findings help us understand the complex biology of melanoma, but also open new avenues for effective cancer therapies.
I would like to take the opportunity and thank all the co-authors who supported this study and especially Professor Sanz-Moreno for her mentoring and guidance.'
Professor Victoria Sanz-Moreno, lead author and director of the work, said:
'Our work highlights the importance of the Myosin II cytoskeleton of cancer cells, not only in driving fast migration, but in the regulation of the tumour microenvironment.
Since amoeboid invasive cells with high Myosin II activity are at the edge of tumours, they are also located in a privileged position to communicate with normal cells and corrupt them.'
Dr Georgouli's research at King's was supported by Cancer Research UK and the NIHR Biomedical Research Centre at Guy's and St Thomas' NHS Foundation Trust.